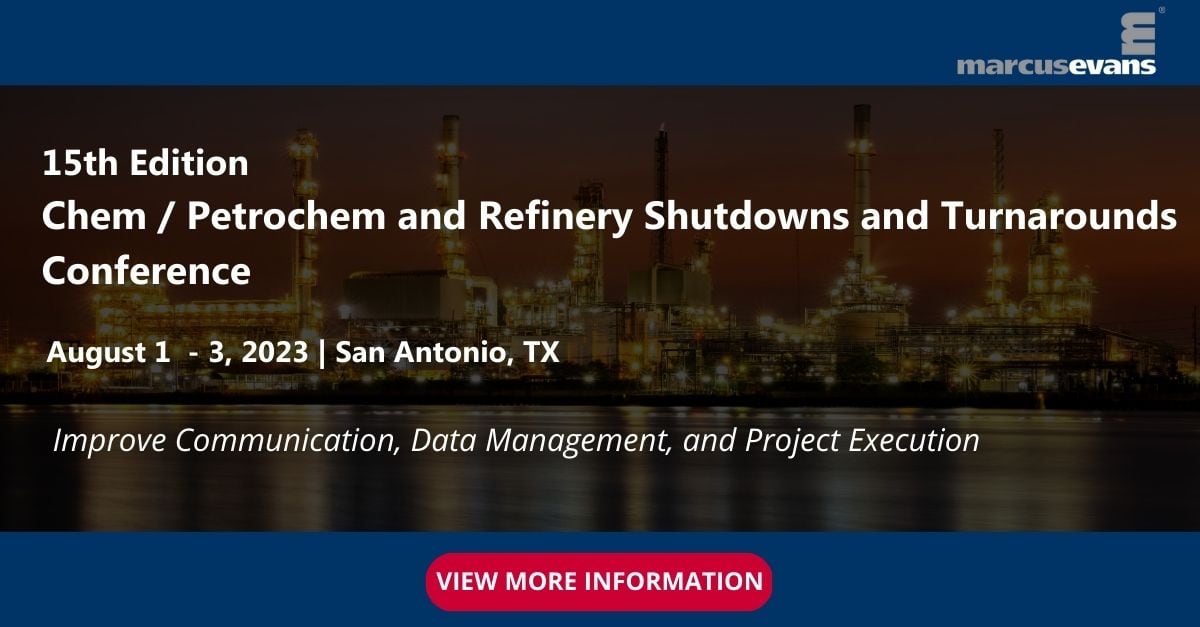 Register Now for the 15th Edition Chem / Petrochem & Refinery Shutdowns & Turnarounds Conference 1 August – 3 August 2023 – San Antonio
This Event Reminder is Sponsored by:

Join turnaround professionals from companies including Chevron Phillips Chemical Company, Texas Petrochemical Company, INEOS Styrolution, Celanese, The Dow Chemical Company to name a few, with strategies and best practices to address the skilled craftsmen labor crisis, overcome safety risks, and navigate material shortages. Uncover emerging technologies, key planning and scheduling approaches, and optimal communication strategies to execute turnarounds efficiently and cost-effectively.
Key topics include:
Establishing Long Term Plans to Source Contract and Specialized Labor to Prevent Scheduling Delays and Maximize Efficiency
Limiting a Reactive Response During Turnaround Execution by Exhibiting Proactive Thinking During Planning
Evaluating Turnaround Execution in the Face of Increased Economic and Labor Uncertainty
Elevating Your Turnaround Process by Integrating Critical Data into one Location to Improve Productivity and Forecasting
Conducting a Thorough Review of the Turnaround to Identify Where the Shortcomings Are and Transform Them into Future Successes
NETWORK during the two day conference to gain insights on key issues as identified by TARs peers to network, discuss how to achieve optimal planning, overcoming labor shortages, and leveraging budding technologies to improve communication, data management, and project execution.
Cost: $2250 + $79 processing fee per delegate for all end-users, multiple attendance discounts, vendors/solution providers contact us for customized packages