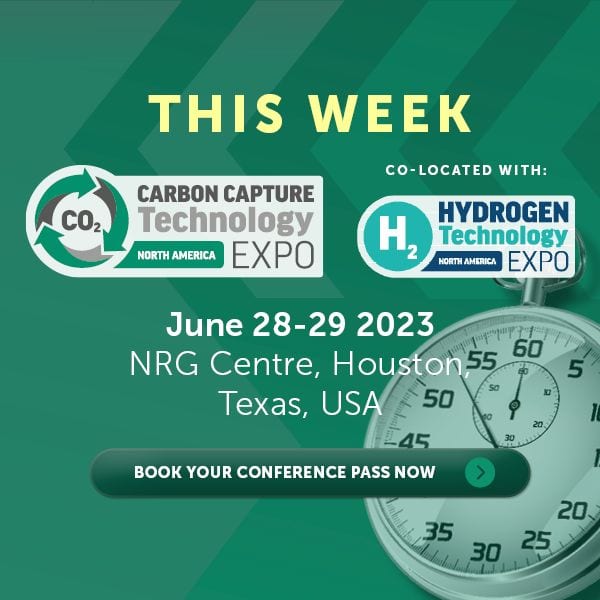 Register Now for the 2023 Carbon Capture & Hydrogen Technology North America Expo JUNE 28 & 29 NRG Center-Houston
This Event Reminder is Sponsored by:

More than 5,000 attendees and over 500 companies have registered at Carbon Capture Technology Expo.
You can register your place today for the event, which is also co-located with Hydrogen Technology Conference & Expo.
If you haven't already decided to join us on Wednesday, here are some great reasons to attend this year's 2-day conference and expo.
> Carbon Capture Technology Expo Expo 2023 brings together 5,000+ industry professionals, researchers, entrepreneurs, and policymakers worldwide.
> Be the first to adopt the solutions you need, ahead of your industry colleagues.
> 250+ cutting-edge technologies delivered by an eclectic array of exhibitors.
> Seminars, workshops, and panel discussions conducted by 125+ industry experts and thought leaders.
The main trade show is free-to-attend.
Track 1 – Carbon Capture, Utilization & Storage
Track 2 – Hydrogen Production, Storage, & Infrastructure Development
Track 3 – Fuel Cell Design, Development, & Manufacturing
Accelerating The Transition To Net-Zero
Carbon capture, utilization and storage technologies (CCUS) are set to play a crucial role in the world's future decarbonization efforts. Alongside other mitigation techniques and further advances in renewable energy innovations, they are increasingly seen as powerful – and necessary – tools to reduce and potentially eliminate carbon dioxide emissions from entering the atmosphere as well as removing existing CO2 from the air.
Carbon Capture Technology Expo North America will unveil the very latest current and emerging technologies from some of the sector's leading experts and energy leaders while providing a showcase for innovative models that can capture carbon's potential by turning CO2 by-products into profitable applications for concrete, carbon fiber, polymers, food, fertilizers, liquid fuels, chemicals, graphene and more.
Naturally where there are opportunities there are challenges, not least in the cost-effective transportation and storage of industrial CO2, storage space and integrity, demand for CO2, incentivization and ROI, and the policies needed as well as the legal and regulatory frameworks. Possibly the most daunting challenge will be balancing the energy demands of a truly effective large-scale CCS infrastructure.
What is abundantly clear is that we need to accelerate and deploy CCS projects across industry sectors to achieve a critical mass of commercial deployment by 2030, in order to reach the economy-wide scale needed to meet mid-century decarbonization targets.
The event will bring together more than 110 international speakers and over 950 delegates to debate and discuss the latest technologies and solutions, strategies, innovations, current and future regulations, by-products and strategies for captured CO2 and the latest and next-generation techniques and models to help foster a truly sustainable, cost-effective and resource-efficient CCUS sector.