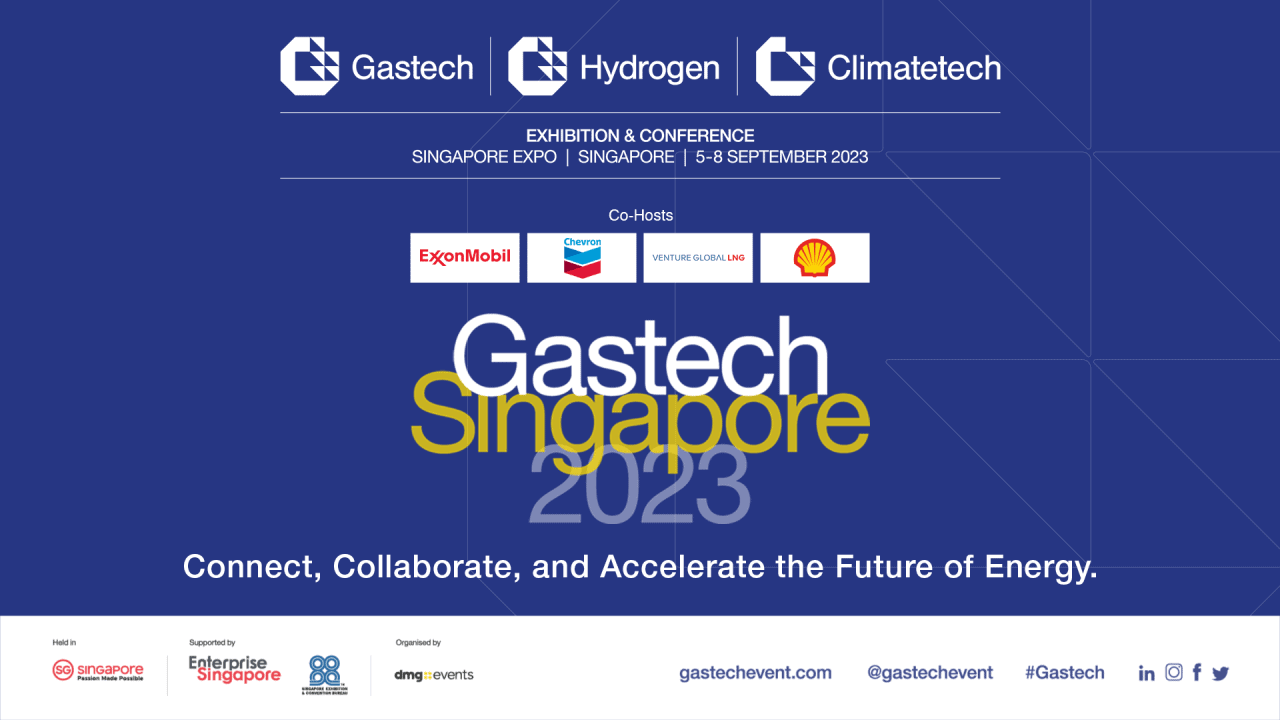 Register Now for the 2023 Gastech | Hydrogen | Climatech Conference Singapore 9/5-9/8 – Singapore
This Event Reminder is Sponsored by:

Gastech is at the heart of the natural gas, LNG, hydrogen, low-carbon solutions, and climate technologies conversation.
A landmark event in the energy industry's calendar, Gastech 2023 is the world's largest meeting place for the gas, LNG, hydrogen, low-carbon solutions, and climate technologies. Gastech will take place at Singapore EXPO from 5 – 8 September.
Gastech 2023 will look ahead to the future amidst an industry-wide transformation to drive progress to net zero. Industry thought leaders and innovators will gauge the outlook for the entire energy value chain during an unparalleled industry experience, over a four-day period.
Singapore plays a growing and important role as a key energy hub, which boasts the world's third largest refining centre, and will welcome over 300 Ministers and CEOs. They will be joined by 4,000 delegates, 750 exhibitors, and 40,000 attendees from over 100 countries.

Redefining the energy landscape
The Gastech Strategic conference will provide delegates with real world insights that will enable them to better understand the dynamics of the world's evolving energy needs. Conversations will range from, but not be limited to, energy industry megatrends, net zero ambitions, next generation energy solutions, project funding, and energy transition.
Over four days Gastech 2023's curated Strategic conference programmes will provide attendees with an opportunity to build the knowledge and contextual awareness, and absorb the insights necessary, to advance understanding of inclusive industry work towards a cleaner, affordable, and secure energy future. The programme will feature an array of contributors, including energy ministers, global business leaders, and strategic and operational experts.
As the energy industry evolves, Gastech has grown to reflect these changes. Gastech Strategic conference will feature six programmes: Leadership and Strategy, Climatetech, Hydrogen, Leadership Roundtables (invitation-only), Diversity, Equity and Inclusion in Energy, and Future Leaders.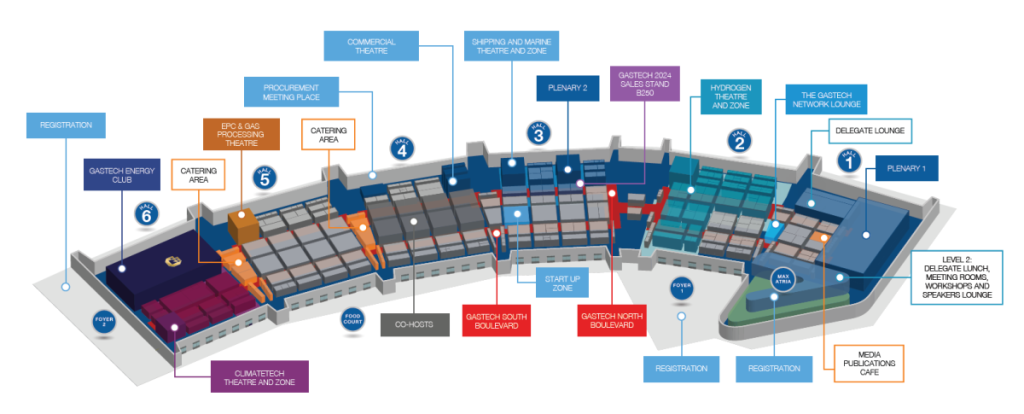 Singapore Expo, Singapore Schedule Overview:
Opening times: Tuesday 05 September 2023 9:30 – 18:00 SGT
Wednesday 06 September 2023 9:30 – 19:00 SGT
Thursday 07 September 2023 9:30 – 18:00 SGT
Friday 08 September 2023 9:30 – 14:00 SGT
Gastech Strategic Conference themes
Security of supply: Managing demand in volatile times
Developing new supply partnerships to address supply security. Understanding the policies and investments needed to support new infrastructure and ensure supply availability to meet demand.
Natural gas: A key enabler of the energy transition
Affirming the role of natural gas as a bridging fuel to enable an orderly energy transition. Exploring pathways to develop low-carbon LNG.
Climate technology: A high-technology, low-carbon future
Creating policy initiatives to incentivize investment in climate technologies. Highlighting the role of finance and adapting traditional models to support investment.
Energy frontiers: New opportunities and operating models
Rethinking energy industry business models to embrace low-carbon solutions and the new market opportunities they can create.
Energy Workforce: Engaging and inspiring the energy architects of the future
Investing in the talent needed to deliver successful strategies and the next generation energy system.
Strategic Conference – Hydrogen Programme
The Gastech Strategic conference, taking place in Singapore from 5-8 September, will lead discussions on energy transition and net zero ambitions, with hydrogen solutions opening the way to a more reliable, sustainable, and affordable energy future. In Singapore, and across the world, policymakers are positioning hydrogen as central to net zero ambitions. With energy demand growing in line with the global population, hydrogen, and associated climate technologies will be key to slowing planetary warming.
The Gastech Hydrogen Strategic conference programme, will form a crucial component of the Gastech Strategic Conference, focusing on accelerating global hydrogen demand growth. Hear how industry leaders are maximising industry-wide collaboration that drives a shared vision of Hydrogen as an evolving low-carbon solution and integrating force in the new global energy mix.
Hydrogen Conference key themes:
The Gastech Hydrogen conference programme will focus on the progress being made in the development of this key energy source, upscaling the global hydrogen economy, and hydrogen's role in delivering corporate and governmental net zero targets.
The energy transition
Policy and regulation
Future financing and investment
Upscaling the global hydrogen value chain
Technology advances in hydrogen production
Applications for hydrogen across the gas network
Decarbonising the energy value chain
At Gastech 2023, Climatetech will unite thought leaders from global energy and technology businesses to provide an exceptional opportunity for participants to explore the latest solutions, services, and technologies that will have a role to play in addressing climate change, and decarbonising the value chain.
Climatetech exhibitors will provide a showcase for existing climate technologies available for development at scale, as well as new and emerging technologies. Attendees will be able to source physical technologies such as carbon capture, direct air capture, carbon movement and storage systems, as well digital technologies such as artificial intelligence, analytics, remote sensing, and geographic information systems.
To be held in Singapore, within the main Gastech Exhibition and Conference from September 5-8, Climatetech will also include a dedicated conference programme that will focus on how climate technology can ratchet up the scale and effectiveness of global progress towards net zero and drive the energy industry towards a cleaner, more sustainable future.
The Climatetech zone highlights the role companies are playing in an increasingly important, and emerging sector, with a key focus on:
Bioenergy
Carbon capture
CCUS
Control systems
Conversion technologies
Decarbonisation
Direct air capture
Electrification
Energy management and storage
Fuel cell
Gas detection and monitoring technologies
Grid integration
Hydrogen
Low-carbon solutions
Methane management
Mobility
Next generation energy
Smart building
Transportation
Vehicle-to-grid integration