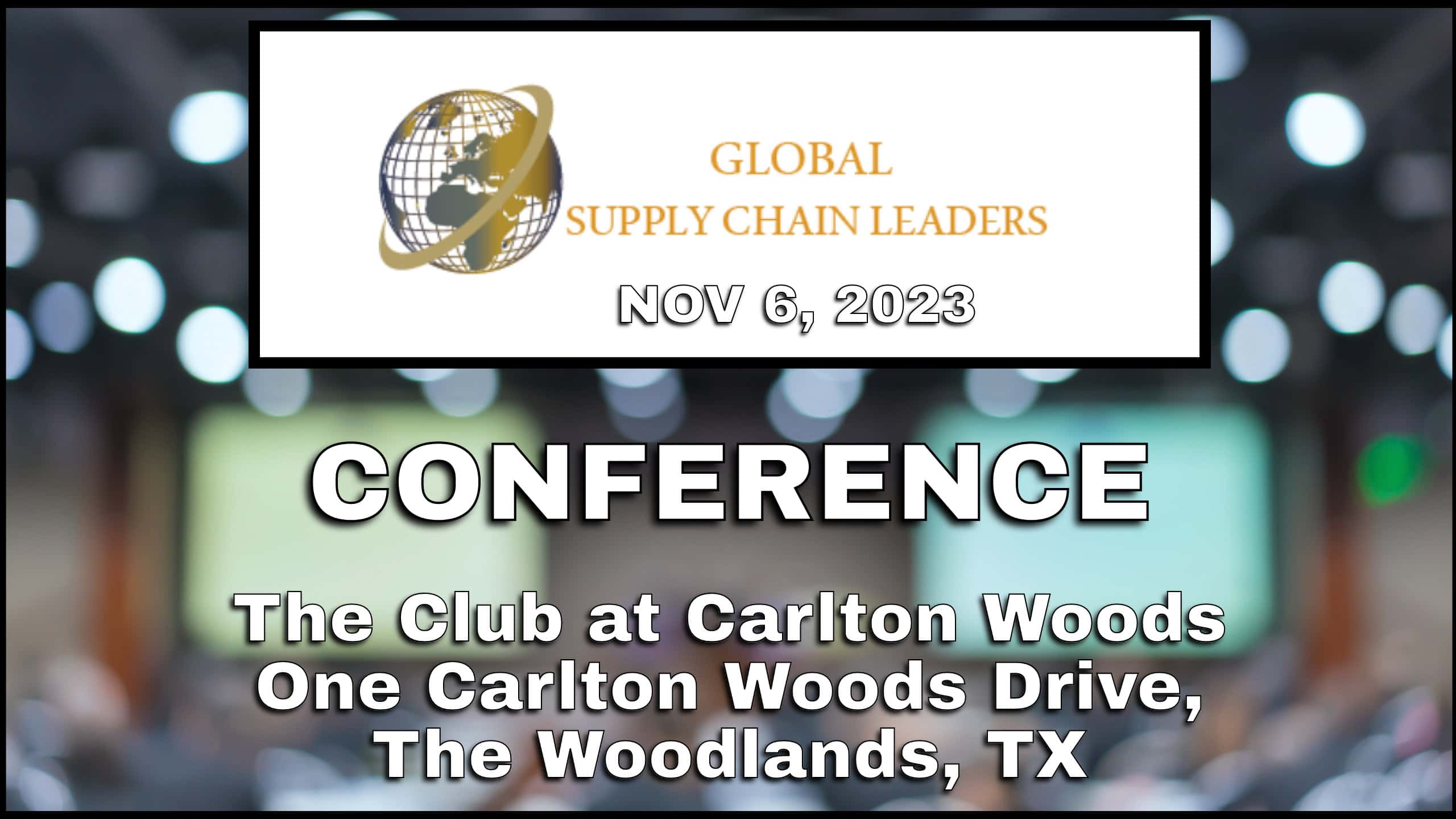 2023 Global Supply Chain Leaders Conference November 6 – The Woodlands
This Event Reminder and Save The Date is Sponsored by:

2023 Agenda
7:30 – 8:00 am Breakfast & Networking
8:00 – 8:15 am Welcome
8:15 – 9:10 am How to gain the competitive edge as a minority leader building a path and successful partnership with corporations
Moderator: Lynn Buckley, Baker Hughes
Jim Brownrigg, Senior Vice President, Turner Construction, Houston Minority Supplier Development Council
Deb Fronczak, fmr. SVP & Chief Procurement Officer, Strategic Sourcing, 3M
Dr. Sabeeta Bidasie-Singh, Director, Business Equity, Port of Houston
Eduardo Nunez Co-Founder, Blue Wave International SDP Corporation
Arelys Thomas, Supplier Diversity Lead, Global Supply Chain, Apache Corporation
Vhine Sensenig, Chairman TMSforce
9:10 – 10:05 am CIO Driving Generative AI & Digital Transformation
AI predictive optimizations at scale running tens of millions of optimizations at once, predictive ETA, SKU velocity, collaborative forecasting, help desk & networking optimization while driving sustainability and reducing carbon footprint. Learn from the leading CIO's driving the most successful AI & digitalization efforts have also substantially increased customer and employee satisfaction.
Patrick Thompson, CIO & Digital Transformation Officer, Albemarle Corporation
David Ricardo Orellana, CIO, Solistica
Sudhakar Virupakshi, CIO, Buckeye Partners
​Mohan Komanduri, SVP, Market Supply Officer, Pepsi Co Foods
Umar Farooq, VP IT at Peterson-Uti/Nextier
Catharina "Dd" Budiharto, Digital Security Architect CISO fmr Phillips 66
Tim Sensenig, Chairman, TMSfirst
10:10 – 11:00 am Chemical Companies improving massive cash flow through Artificial Intelligence and Digital Supply Chain Turnarounds.
Today's Artificial Intelligence & digital supply chain executives know that spending $20 million or more to implement systems is not innovative but old technology. Many companies have been misled by 3rd party consulting and implementation firms. AI & Digitization increases efficiency and resilience and provides a solid foundation for building new products and business models.
Sajan Dhanuka, VP Operations and Risk Management, Vinmar International
Martin Toscano, President, Evonik Industries
Darin Harvey, EVP Manufacturing and Supply Chain, Advanced Drainage Systems, Inc.
Brandan Huff, Vice President Global Logistics and Trade, Nouryon
Christian Borthayre, SVP Global Supply Chian, American Tire Distributors
​Frank De Castro, Director of Procurement, Solvay
Brian Wyly, Director of Global Logistics, Ascend Performance Materials
Dr. Horacio Sanchez (DM), Sr Procurement Specialist, Kuraray
11:00 – 12:00 pm Mexico the Fastest Growing Near Shoring Supply Chain during global realignment optimization. Driving Supply Chain Efficiency while using Best in Class Technology
Executing strategic customers & relationships to succeed in one the most difficult supply chain operations of all time.
Mike Fahey, VP Supply Chain Hisense
David Ricardo Orellana, CIO, Solistica
Martin Toscano, President, Evonik Industries
Mike Passon, Director, Global Supply Chain & Logistics, HP
Sajan Dhanuka, VP Operations Operations and Risk Management, Vinmar Intl
Hector Castillo, MBA, M.S. Director Of Logistics at Nexeo Plastics
Fred Rake, President, Symbia Logistics
Morning Speaker Awards
12:00 – 12:45 pm Buffet Lunch Pickup
12:45 – 1:34 pm ESG Value Chain Collaboration Panel – executives creating a new pathway where they can make a global impact for a more resilient & sustainable world.
Stephanie Weiler, Managing Director ESG Advisory Services, Alvarez & Marsal
Patrick Thompson, CIO & Digital Transformation Officer, Albemarle Corporation
Vic Svec, Managing Director, and Practice Leader – ESG Advisory, Alvarez & Marsal
David Reid, CTO & CMO NOV
Umar Farooq, VP IT at Patterson-Uti/Nextier
1:40 – 2:30 pm Driving AI & Machine Learning as operators continue to add more pipeline capacity, operators continue to increase ROI and estimated ultimate recovery with ongoing innovation in lateral placements and completions.
Sudhakar Virupakshi, CIO, Buckeye Partners
Catharina "Dd" Budiharto, Digital Security Architect CISO fmr Phillips 66
Timm Bohnert, VP Supply Chain, DistributionNOW
Ashwin Abraham, Manager of Supply Chain, Williams
2:30 – 3:20 pm Artificial Intelligence Cold Chain – the greatest expansion of all time. Driving Resilience & innovation through effective Supply Chain Risk Management
The Intelligent Supply Chain is an engine of growth through new customer experiences, a driver of profitability in challenging economic times, and a responsible source of stakeholder trust in the new reality world enabling competitiveness.
Mathew Moore, VP Global Market Strategy, Americold Logistics
Scott Deutsch, SVP, TMSfirst
Chandler Williams, Operations, PAXAFE
Travis Ross, AI Cold Chain Solutions Manager, EROAD
Margaret A. Kidd, MILT, CPE™, Program Director, Supply Chain & Logistics Technology University of Houston
3:40 – 4:30 pm Corporate Social Responsibility – Giving Back and Taking Care of Those in Need
David Reid, CTO & CMO, NOV, Founder redM
Jamie Hampton, Executive Director, Hope Legacy Collective
Jeff Chadwick, Executive Director Compassion Centers & Houston Missions
Bobby Mark, Executive Director, Redeemed Ministries
Iryna Marchiano, PhD, HTX4Ukraine Co-founder & SPE Central Ukraine Intl Aid Ambassador
Katherine Givens, Co-Founder 11 Partners
Jason Duff, North America Oil & Gas Lead- GBS, IBM, Hands of Justice Board Member