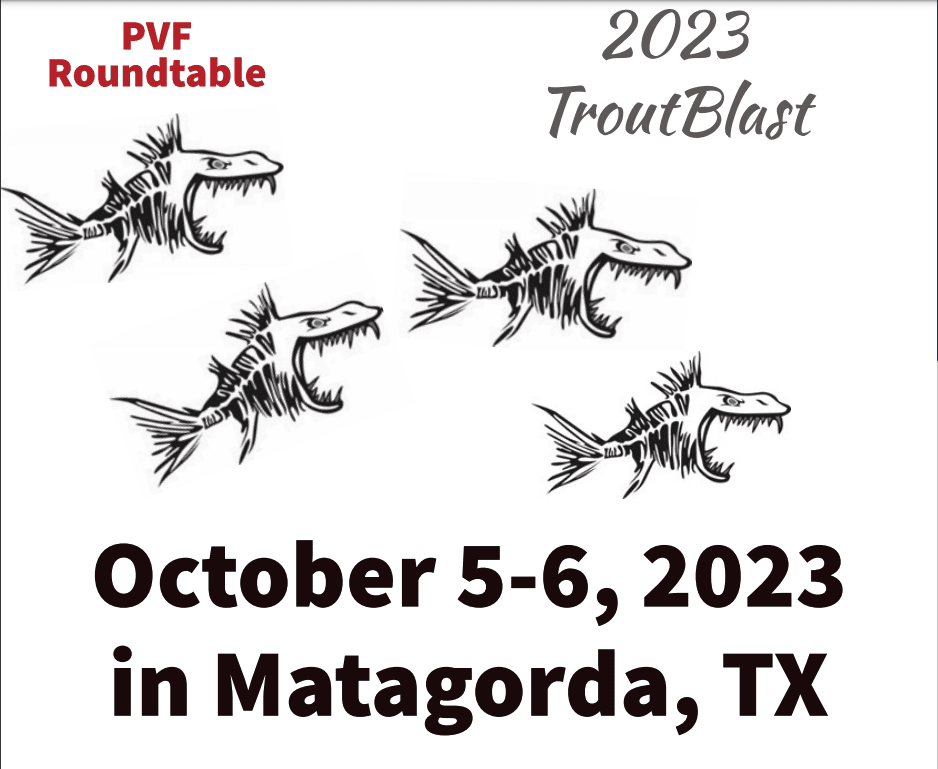 Register Now for the 2023 PVF Roundtable Troutblast Fishing Tournament October 5-6, 2023 – Matagorda, TX
This Event Reminder and Save The Date is Sponsored by:

About PVF Roundtable:
The PVF Roundtable is an organization of industry professionals involved in the Pipe, Valve and Fitting industry. The membership is committed to providing an open dialogue to exchange relevant information, creating awareness of current industry affairs which affect the entire PVF community. In addition, we prepare for the future of the industry by providing funds to educational and training institutes to encourage the growth of the PVF field.
PVF ROUNDTABLE'S ANNUAL TROUTBLAST TOURNAMENT WITH MRC GLOBAL AS THE TITLE SPONSOR
FORMAT: BLACKJACK TOURNAMENT
OCTOBER 5-6, 2022 IN MATAGORDA, TEXAS
IF YOU WANT TO FISH AS AN INDIVIDUAL WITHOUT A TEAM, HAVE A TEAM THROUGH A SPONSORSHIP, OR TO REGISTER FOR DINNER ONLY TICKETS AT $60 EACH, DO NOT FILL OUT THIS FORM. EMAL jamie.meade@colsonxcel.com
OCTOBER 5TH:
REGISTRATION STARTS A 5PM FOLLOWED BY THE CAPTAINS DINNER HOSTED BY FERGUSON INDUSTRIAL WHERE FOOD, DRINK, MUSIC, AND THE FAMOUS RAFFLE WILL BE HAPPENING
DINNER IS SERVED BETWEEN 7:30 – 9:30
OCTOBER 6TH:
BLACKJACK TOURNAMENT STARTS AT SUNRISE AND WEIGH-IN IS FROM 1PM – 3PM
AWARDS DINNER IS AT THE STORM SHACK FROM 4PM-7PM
TEAM COST PAYABLE BY CREDIT CARD ONLY
PVF ROUNDTABLE MEMBER TEAM COST $675 + 3% CREDIT CARD FEE
NON-PVF ROUNDTABLE TEAM COST $875 + 3% CREDIT CARD FEE
FIFTH PERSON OR INDIVIDUAL FISHERMAN COST
PVF ROUNDTABLE MEMBER INDIVIDUAL COST $170 + 3% CREDIT CARD FEE
NON-PVF ROUNDTABLE INDIVIDUAL COST $220 + 3% CREDIT CARD FEE
FISHING REGISTRATION INCLUDES:
FISHING SPOT
CAPTAINS DINNER
FISHERMEN'S GIFT
ENTRY INTO THE RAFFLE
DINNER FOR YOUR TEAM CAPTAIN (ONLY APPLIED TO TEAMS)
IF YOU ARE INTERESTED IN OUR SPONSORSHIP OPPORTUNITIES, PLEASE GO TO THE PVF ROUNDTABLE WEBSITE HOME PAGE AND CLICK ON SPONSORSHIPS.
THIS EVENT IS RAIN OR SHINE & NO REFUNDS
UNDER 21 NOT ALLOWED AT THE STORM SHACK THURSDAY OR FRIDAY
THIS CHARITY EVENT IS HELD BY THE PVF ROUNDTABLE. ALL PROCEEDS GO TO COLLEGE SCHOLARSHIPS SUPPORTING THE PVF INDUSTRY.
Thank you for your support of this event. A portion of your payments is deductible according to applicable tax law.
PLEASE CONTACT THE TOURNAMENT DIRECTOR JAMIE MEADE AT jamie.meade@colsonxcel.com