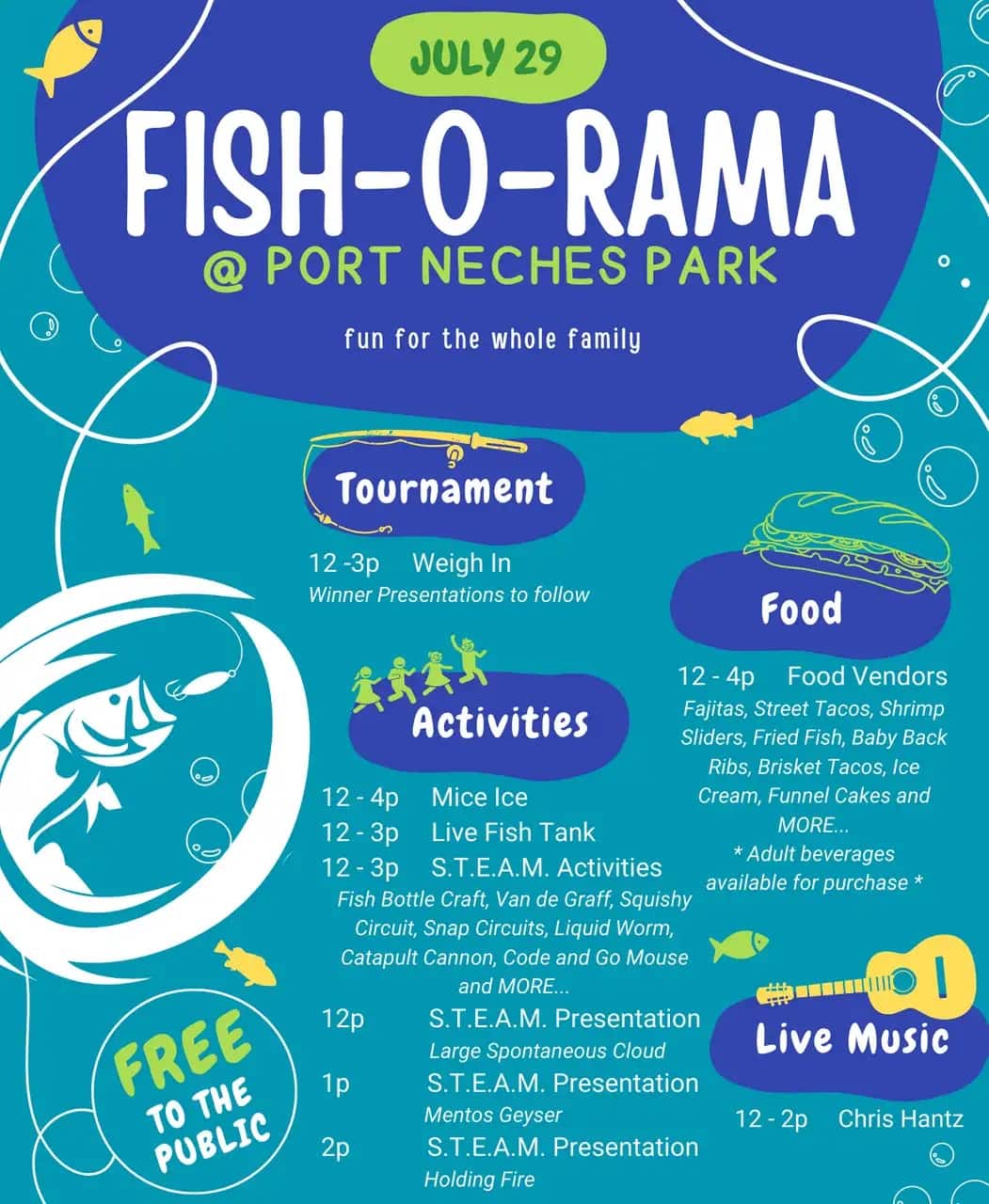 2nd Annual Indorama Fish-O-Rama July 28, 29, 2023 Fishing Tournament and Family Day – Port Neches
This Event Reminder is Sponsored by:

Captains Dinner: Date & Time: July 28, 2023 Doors open at 6:30 pm
Location:
Beaumont Civic Center
701 Main St
Beaumont, TX 77701
Features:
Raffle Items
Silent / Live Auction
Live Entertainment – Jamie Bergeron & The Kickin' Cajuns
Drinks / Dinner – Courville's
Fish-O-Rama Fishing Tournament Date & Time:July 29, 2023 Fishing starts at 6:00 am
Location:
Port Neches Park
600 Grigsby Ave
Port Neches, TX 77651
Indorama's Vision
Through a partnership between Indorama Ventures and the Beaumont Children's Museum, the funds raised from our tournaments will be used to enhance Sustainability through recycling and STEAM education programs in the many school districts that our employees' families are enrolled.
Indorama's Mission
Indorama believes that sustainability should exhibit awareness of how all things are connected and make well-considered choices for the greater good of all. Our mission is to facilitate methods to make recycling more convenient in our schools and community.
STEAM (Science, Technology, Engineering, Art and Mathematics) education is a natural fit for Indorama because current and future success depends on the availability of top talent in these fields. We are helping to close the skills gap, position local youth for career success, and ensure a quality talent pool for our industry. There is great opportunity to impact this area through our continued work with school districts to educate and train teachers and students through STEAM education curriculum.