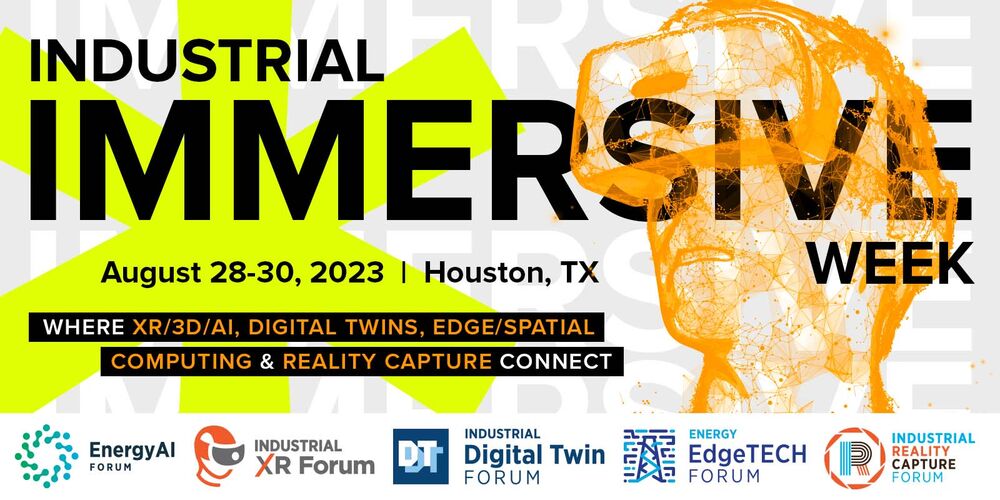 Register now for 5th Annual Industrial Immersive Week August 28-30, 2023 – Houston : USE 25OFFIMMERSIVE PROMO Code for 25% Off
This Event Reminder is Sponsored by:

WHERE XR/3D/AI, DIGITAL TWINS, REALITY CAPTURE, EDGE & SPATIAL COMPUTING CONNECT
Hear Timely Industrial XR Insight. Network with Asset Owners and Key Decision Makers. Scale Your XR/3D, Digital Twin, Reality Capture Program. Be the First to Hear Valuable Industry Updates. Get the Heck Out of the Office
For the fifth year in a row, the Industrial XR Global Summit is returning to bring together industrial, energy & engineering immersive tech leaders, software developers and VR / AR / XR, Spatial Computing, 3D and Digital Twins solution providers to share first-hand experience, insight and advice for implementing and scaling immersive tech programs in enterprise operations.
We cannot wait to bring the largest gathering of the industrial, energy & engineering digital reality/spatial computing ecosystem together once again including:
AR/VR/XR / Digital Reality / Spatial Computing
Digital Twins / Immersive Visualization / Digital Asset Intelligence / RTD-Real Time Data
Edge / Cloud Computing
AI/ML/Generative AI
IIoT / Connectivity / 5G / Connected Workforce
Reality Capture / 3D Models & Simulations / 360 / Reality Modeling / 3D Asset Management
Blockchain / Cybersecurity
Maximize your travel plans and participate as a speaker, sponsor/exhibitor, or attendee at Industrial IMMERSIVE Week 2023!
The Industrial IMMERSIVE Week attracts the most Industrial/Energy & Engineering tech professionals making investment, strategy & tactical decisions, or building, scaling and executing pioneering XR/3D/Simulations, digital twin, reality capture, edge /spatial computing, AI/ML, connected workforce & IIoT projects within their enterprise.
"Industrial Reality"
Featuring:
● Spatial Computing / AI/ML / IIOT
● Spatial Immersive Visualization / Digital Asset Intelligence / RTD-Real-time Data / Industrial Reality Capture
● Training / Learning Development / Knowledge Transfer / Remote Assisted Reality
● Instruction & Assistance / Guidance / Expert
● Inspection / Maintenance / Field Services / Real-time Compliance
● Virtual Design / Engineering / Construction / Reality Capture / BIM / GIS
● Data Analytics & Visualization / Digital Twins / 3D Simulations & Modeling / Edge & Cloud Computing
● Connected & Augmented Workforce:
● Virtual Meetings & Real-time Remote Communication & Immersive Collaboration / Connectivity / 5G