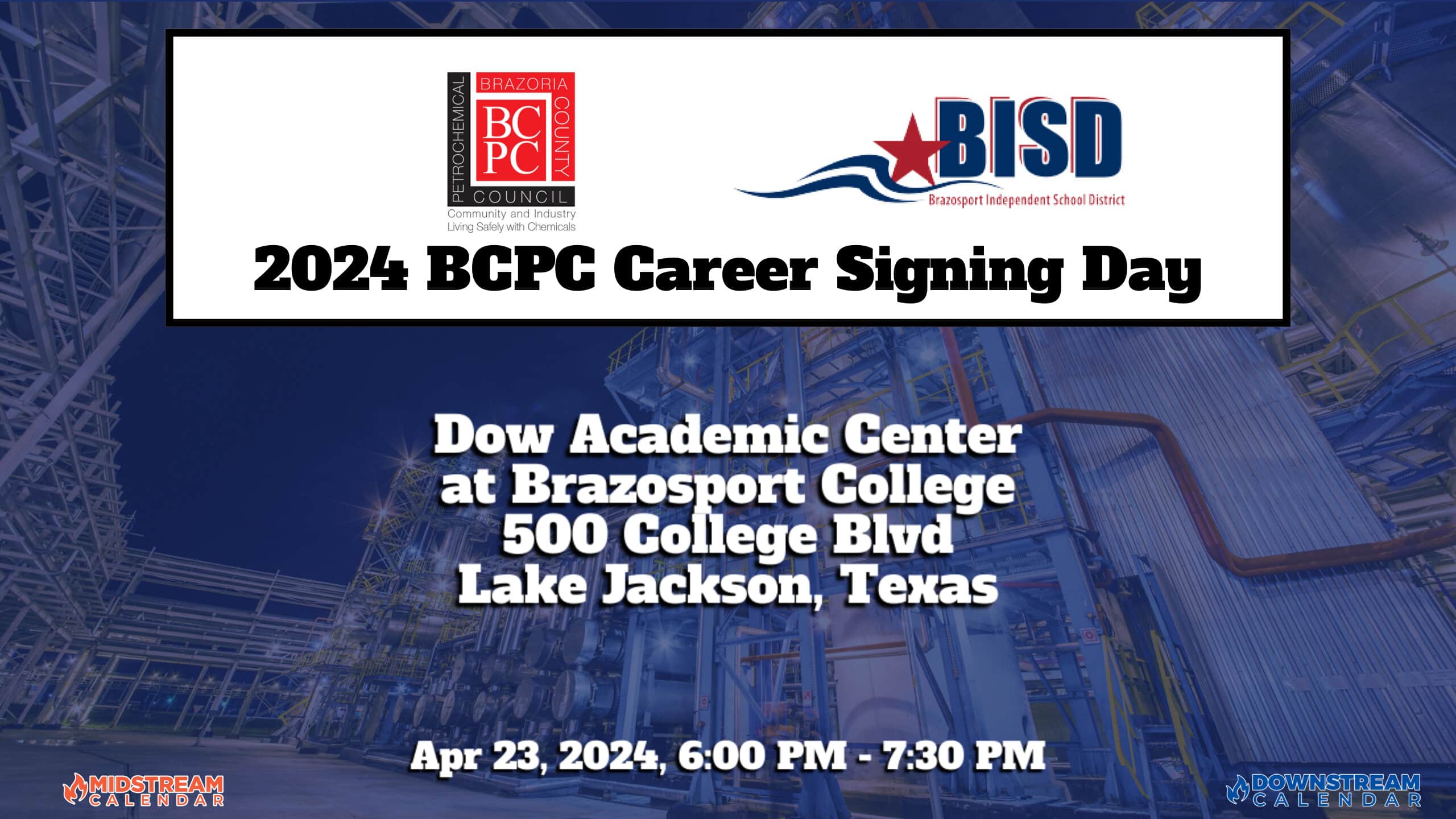 Save The Date for the 6th Annual BCPC Career Signing Day April 23, 2024 – Lake Jackson
Please join us for the 6th Annual BCPC Career Signing Day.
The BCPC Career Signing Day is a program developed to increase interest and growth within Career & Technical Education (CTE) and provide construction and petrochemical organizations with young talent to grow into highly productive and sustainable employees.
With CTE programs and student certifications on the rise in the state of Texas and in Brazoria County, our committee developed a plan to recognize students and organizations that were willing to hire, train and educate CTE students each year.
Taking the format used by colleges offering athletes full scholarships and "signing" them during events, our committee has developed a format that "mirrors" what colleges do for athletes receiving full scholarships. This format gives organizations recognition for hiring a student directly from high school and investing in their future. The student is recognized for their education, training and overall CTE accomplishments.
Awards, Recognitions and Appearances
2019 CTAT Summer Conference-Houston, TX
2019 ACTE Conference-Anaheim, CA
2019 Texas Workforce Commission Webinar
2020 Gulf Coast Giants Article
2021 CTAT Gulf Coast Committee
2022 CNBC Article
2022 State of Texas Proclamation
2022 CURT Roundtable Workforce Development Award
2023 ABC 13 "Who's Hiring"
2023 50 Plus – iHeart Radio
2023 Fox & Friends
Brazoria County Petrochemical Council
Tue, Apr 23, 2024, 6:00 PM – 7:30 PM (your local time)
Dow Academic Center at Brazosport College
500 College Blvd, Lake Jackson, Texas, US, 77566