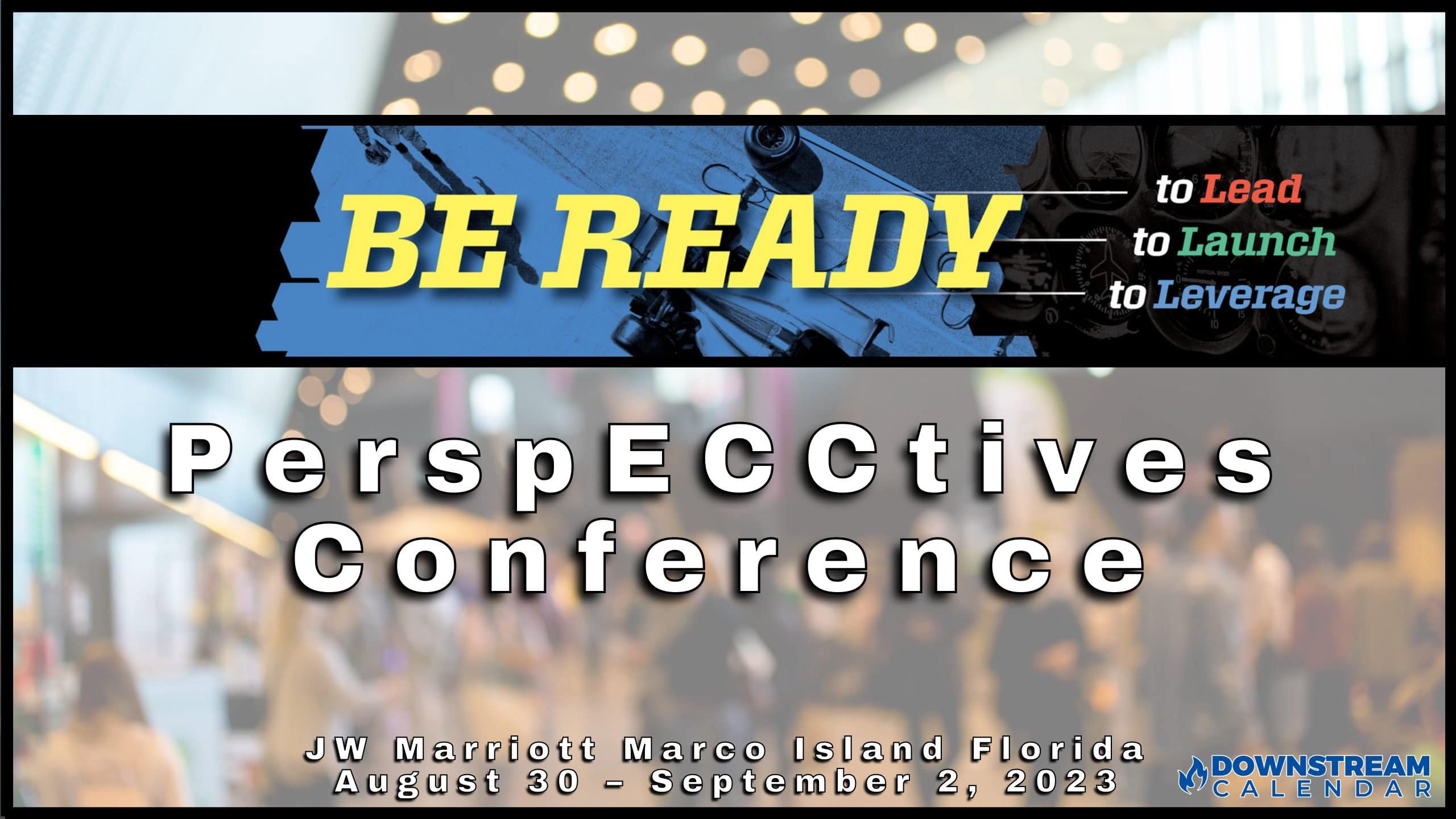 Register Now for the ECC PerspECCtives Conference Marco Island, Florida August 30-Sep 2, 2023
This Event Reminder is Sponsored by:


ECC PerspECCtives Conference
Marco Island, Florida
August 30-Sep 2, 2023
With a 50-year foundation, the Annual ECC Conference continues to deliver world-class keynote speakers, engaging sessions, and intimate network opportunities with access to some of the industry's top leadership. We continue to expand our reach and impact through successful programs like Future Leaders and engagement with the academic community.
Conference topics always reflect the latest thought leadership and captivating discussion around the rapid changes in our business. We provide the highest caliber of industry speakers; Colin Powell, Steve Wozniak, Amy Myers Jaffe, Daymond John, Stanley McChrystal, Peter Zeihan, Ian Bremmer and Liam Mallon include just a few of our notable past speakers.
In addition to our conference, we provide year round opportunities to grow and connect through our mid-year meetings and groups like our Academia and Workforce Development Committee.
We are INSPIRED and now we are READY. Collaborate with us this August to Lead, Launch and Leverage. Join the discussion with your thought-leader peers to capitalize on industry topics navigating EPC dynamics, geopolitics impacting the marketplace, leadership of the future and much more.
The ECC is an association of leaders in the engineering and construction management world who are interested in fostering a powerful platform for career growth through the free exchange of ideas, the discovery of new perspectives, and the exploration of today's biggest challenges.
For over 50 years, the Engineering and Construction Contracting (ECC) Association has provided unique opportunities for industry pioneers and innovators to collaborate in a forum free from the daily demands and politics of business — the Annual ECC Conference. Formed by owners, contractors, suppliers and academics in the engineering and construction business, the ECC aims to drive excellence and the long-term success of the industry through networking, innovation, and outreach.
ECC provides opportunity for professionals from all aspects and all levels of the engineering and construction industry. From the Future Leaders program, a program that recognizes and fosters budding leadership, to established thought-leaders and industry pioneers, ECC is working to build avenues for greater understanding, knowledge growth and career advancement for all who participate.
Agenda
August 29, 2023
ECC Future Leader Reception 5:30 PM-7:30 PM
August 30, 2023
Future Leader Wednesday Session
8:00 AM-4:00 PM
Sponsor only Strategic Issue Session
1:00 PM-5:00 PM
First Time Attendee Reception
5:00 PM-5:30 PM
ECC Conference Welcome Reception
5:30 PM-7:30 PM
August 31, 2023
Attendee Breakfast
7:15 AM-8:25 AM
Conference Welcome
8:30 AM-8:50 AM
Adam Steltzner, Chief Engineer – NASA Jet Prolusion Laboratory
8:50 AM-9:40 AM
ECC Strategic Initiatives
9:40 AM-10:20 AM
Networking Break
9:50 AM-10:20 AM
Anirban Basu, Chairman & CEO – Sage Policy Group, Inc.
10:20 AM-11:10 AM
Breakout Forum Overview + transition time
11:10 AM-11:20 AM
Breakouts
11:20 AM-12:25 PM
Networking Lunch (no program) + transition time
12:25 PM-1:40 PM
Breakouts
1:40 PM-2:45 PM
Transition + Networking Break
2:45 PM-3:20 PM
ECC Achievement Award
3:20 PM-3:35 PM
Spirit of ECC Award
3:35 PM-3:50 PM
Vicki Hollub, President & CEO – Oxy
3:50 PM-4:40 PM
Day One Closing Remarks
4:40 PM-4:55 PM
Keynote Meet & Greet (available to Sponsors only…click Sponsor tab for info on Sponsorship)
5:00 PM-6:00 PM
Evening Event
7:00 PM-10:00 PM
September 1, 2023
Attendee Breakfast
7:15 AM-8:25 AM
Day 2 Welcome
8:30 AM-8:50 AM
SOS Recap
8:50 AM-9:00 AM
Future Leader Update
9:00 AM-9:10 AM
John Acuff, New York Times bestselling author
9:10 AM-10:00 AM
Breakout Forum Overview + transition time
10:00 AM-10:10 AM
Networking Break + transition time
10:10 AM-10:45 AM
Breakouts
10:45 AM-11:50 AM
Tony Dungy, Former NFL Coach
11:50 AM-1:10 PM
Closing Remarks
1:10 PM-1:25 PM
Keynote Meet and Greet with Tony Dungy
1:25 PM-2:15 PM
Follow www.DownstreamCalendar.com for upcoming industry events. Downstream Calendar was created to help synchronize the industry by providing a free lookahead for key industry events across the country. We focus on non-profit support, community, and industry specific trade shows and downstream conferences for refining plants, chemical plants, fertilizer plants, terminals, storage facilities, LNG plants, syngas, and bio mass. Follow MidstreamCalendar.com for Midstream Events. We are the original energy calendar that bring together All Streams of Energy.
2023 Oil and Gas Events added every day.
2023 Oil and Gas Events Florida