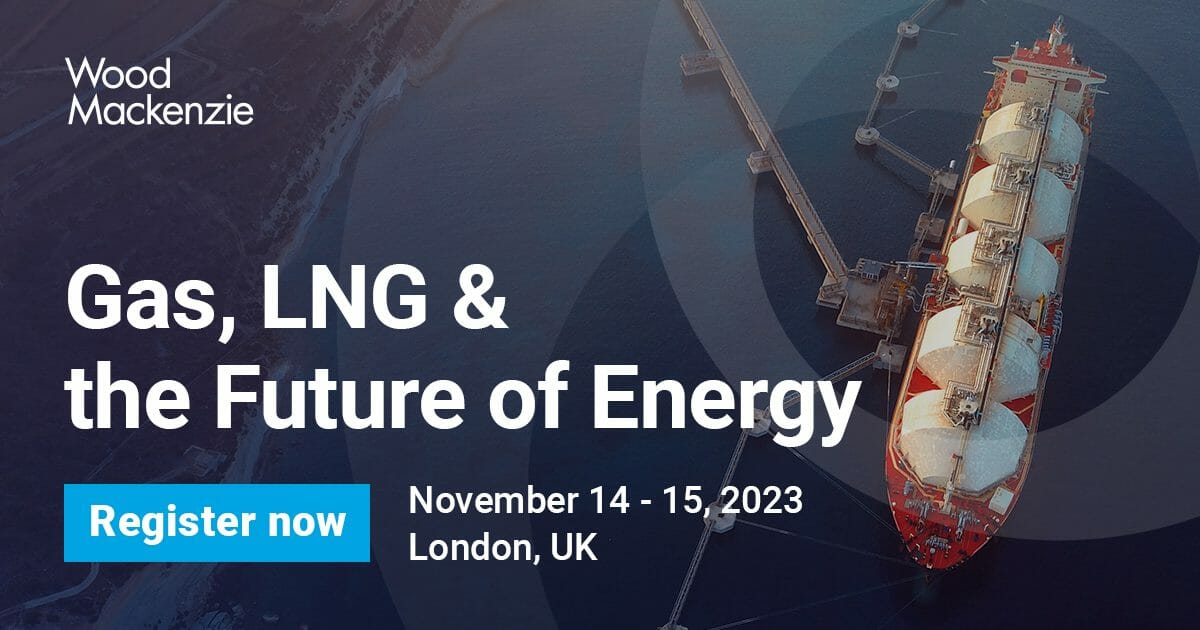 INTERNATIONAL: Gas, LNG and The Future of Energy by Wood Mackenzie November 14-15, 2023 – London
This Event Reminder is Sponsored by:

Exploring the shift required for the gas and LNG industry to thrive through the energy transition
Overview:
Wood Mackenzie's new global conference Gas, LNG and the Future of Energy 2023 is where the industry comes together from 14-15 November in London to discuss the different market, investment and corporate dynamics shaping it, and the role of gas in supporting the energy transition.
Topics include:
The state of the Gas / LNG Industry. Understand the key market trends and uncertainties that currently exist and what the future holds in Europe
The changing structure of global Gas and LNG markets and pricing. Get the latest on the US market, the future of Asian LNG demand, contracting, trading, hub development and the shipping industry
Growing Gas and LNG infrastructure investment and evolving business models. Discover the key drivers financing Gas and LNG projects
How Gas can thrive through the energy transition. What does the industry look like in a net-zero scenario in the context of decarbonising gas and repurposing for the hydrogen economy?
Speakers include:
Simon Flowers, Chairman, Chief Analyst and author of The Edge, Wood Mackenzie
Elio Ruggeri, Managing Director, Snam FSRU Italia
Jonty Shepard, VP of Global LNG Trading and Origination, bp
Frank Harris, Head of Global LNG Consulting, Wood Mackenzie
Kristy Kramer, Vice President, Gas & LNG Research, Wood Mackenzie