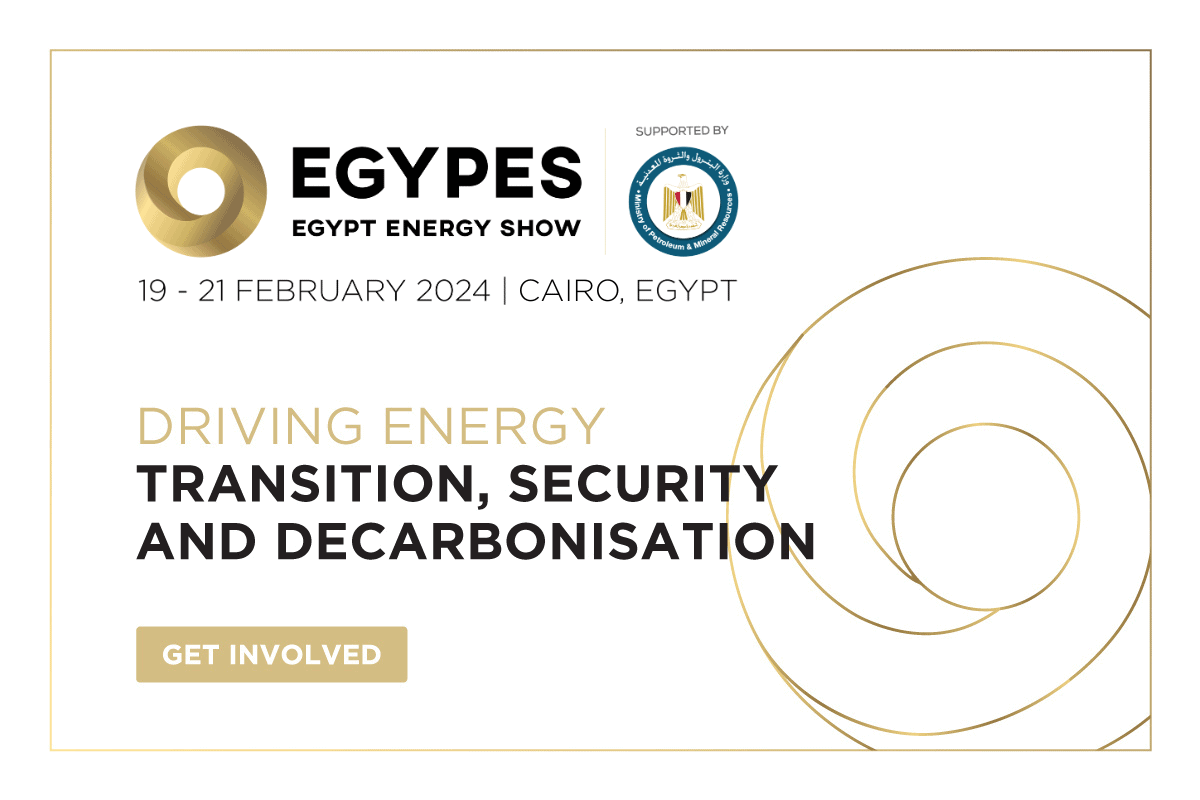 INTERNATIONAL: Register Now for the EGYPES Energy Show February 19-21, 2024
This Event Reminder is Sponsored by:
THE REGION'S LEADING OIL, GAS AND ENERGY EXHIBITION AND CONFERENCE
The Egypt Energy Show previously known as the Egypt Petroleum Show, is North Africa and the Mediterranean's most important oil and gas exhibition and conference held under the patronage of His Excellency Abdel Fattah El Sisi, President of the Arab Republic of Egypt, where oil and gas professionals convene to engage in dialogue, create partnerships, do business and identify solutions and strategies that will reshape the global energy markets.
EGYPES 2024 will take place from 19-21 February 2024 in Cairo at the Egypt International Exhibition Center with an expanded exhibition space attracting 35,000+ attendees from local & international businesses to identify opportunities from Egypt, North Africa and the East Mediterranean's future project requirements, strategic priorities and gain insights into the wider oil and gas sector.
REPRESENTATION FROM 12 INTERNATIONAL COUNTRY PAVILIONS
EGYPS delivers real buying power from across the world to Egypt.
Gain direct access to the primary stakeholders involved in the region's upcoming projects investing more than $1 billion in the oil and natural gas sector in the Western Desert region of Egypt.
EGYPS provides an ultimate business platform where country pavilions convene to boost bilateral trade, discuss commerce and innovation.
Join 26 NOCs, IOCs & IECs along with 500+ exhibiting companies.
THE REGION'S LEADING ENERGY CONFERENCES
The EGYPES 2024 Conferences hold a pivotal role in fostering engagement across a spectrum of stakeholders, including government officials, policymakers, industry leaders, influencers, and engineers. They provide invaluable opportunities for knowledge exchange and technical enrichment, driven by a strong emphasis on sustainability and climate-conscious practices.
Opening doors to substantial opportunities in achieving an equitable energy transition.
The Conferences encompass and address objectives such as net-zero ambitions, decarbonisation, and methane reduction strategies, plus critical facets like energy security, supply-demand dynamics, affordability, and energy poverty in emerging markets.
The EGYPES Conferences accentuate the industry's growing commitment to energy transition and the journey toward a net-zero future. By uniting diverse stakeholders, EGYPES propels discussions that not only shape the energy landscape but also foster innovative solutions, paving a trajectory toward a more sustainable and climate conscious energy sector.
STRATEGIC CONFERENCE
With the extent of current geopolitical tensions and unprecedented sanctions in place against the world's largest exporter of natural gas, it's no longer just energy transition and the climate debate setting the industry's pace of change.
Globally, both powerhouse and emerging economies are feeling the consequences with inflation and recession risks at an all-time high. This has however not stopped but escalated the speed and need for transitioning to a new global energy system, one that combats climate change and reduces reliance on single energy sources.
As the industry moves from climate commitments to actions and continues efforts to decarbonise its oil and gas operations, the reshaping of markets, driven by new geographical supply and demand dynamics, continues at pace.
It is without doubt, that the global energy landscape must continue to evolve. Companies must embrace and reinvent their business models. Tough choices on how, where and what they focus upon must be made. Fair and equitable energy must be made available for all. Access to both hydrocarbon and clean energy investment and funding must be a priority globally. Technology deployment and transfer, infrastructure and capacity building must not be left behind. The much-needed multi-generational workforce skills and talents must be retained and attracted. Last but not least, transparent and action-oriented leaders and management teams must manage through the new realities of a forever changed global energy landscape.
TECHNICAL CONFERENCE
As the Egypt Petroleum Show (EGYPS) transitions to the Egypt Energy Show (EGYPES) there has never been a more opportune moment to consider submitting technical abstracts for the EGYPES 2024 Call for Papers campaign.
With the newly expanded focus covering oil, gas, refining, petrochemicals and the wider energy value chain, we are looking for technical experts to submit abstracts that focus upon all types of energy including hydrogen, nuclear power and infrastructure, battery storage and electric charging infrastructure, wind, wave and solar power. Plus, CCS and CCUS, climate tech and innovation, methane reduction, renewable feedstocks, gas and LNG, circular economy, decarbonisation and energy transition.
With 19 upstream, midstream, downstream and energy transition categories to select from, download the EGYPES 2024 Technical Conference Call for Papers brochure to see how you and your business can contribute.
SUSTAINABILITY IN ENERGY CONFERENCE & AWARDS
Sustainability has been an important recurring topic of conversation within the energy industry following the 2015 Paris agreement. With the next two editions of COP being held in North Africa and the Middle East, the region's focus on sustainability has shifted even higher on the agendas of governments, industries, companies and society.
As a result, we are already seeing a number of accelerated energy transition activities, kickstarting clean energy innovations, as well as measures to improve environmental, social, and health and safety efforts in accordance with sustainable development goals. These initiatives are the result of increased demand from governments and the general public for more meaningful action to combat climate change and achieve net-zero economies globally. However, due to current geopolitical tensions, global economies are now experiencing an energy crisis, and governments are faced with the dual challenge of achieving net-zero emission targets while enhancing energy security, affordability and economic stability.
The EGYPES 2024 Sustainability in Energy Conference will bring together global energy leaders, sustainability and Health Safety & Environmental experts to explore how oil and gas operators are integrating sustainability practices into their business models and workplaces ensuring positive impact on the planet, their employees, and the communities in which they operate.
FINANCE & INVESTMENT IN ENERGY CONFERENCE
As the industry continues its recovery and countries worldwide strive to ensure energy security and affordability, the EGYPES Finance and Investment in Energy Conference delves into the strategies employed by nations and businesses to foster crucial transformations, exploring the implementation of innovative and sustainable investment models across the entire energy value chain, paving the way for a more resilient and efficient energy sector.
EQUALITY IN ENERGY CONFERENCE
It's globally recognised that a diverse workforce increases productivity, innovation and inclusive solutions across talent-driven individuals and teams.
Equally, propelled by COVID remote working, the workplace of the future is changing. Connectivity has enabled physical and remote workspaces that are interconnected in real time and complement business practices and provide employees with more flexible working environments, structures and cultures that empower and inspire performance and collaboration.
As the industry navigates current geopolitical constraints and continues its energy transition and decarbonisation journey, the existing and future workforce remains integral to turning net-zero ambitions into actual reality. From upskilling existing employees to expanding recruitment programmes that attract Millennial and Gen Z graduates, the industry is re-evaluating its employee proposition, creating transparent recruitment practices with clear career progression, pay transparency and flexibility.
The EGYPES 2024 Equality in Energy Conference convenes global industry experts, organisational change management and inclusion and diversity specialists to lead the conversation on how the industry is creating equal, diverse and inclusive workforces and workplaces of the future to deliver sustainable low-carbon business models.