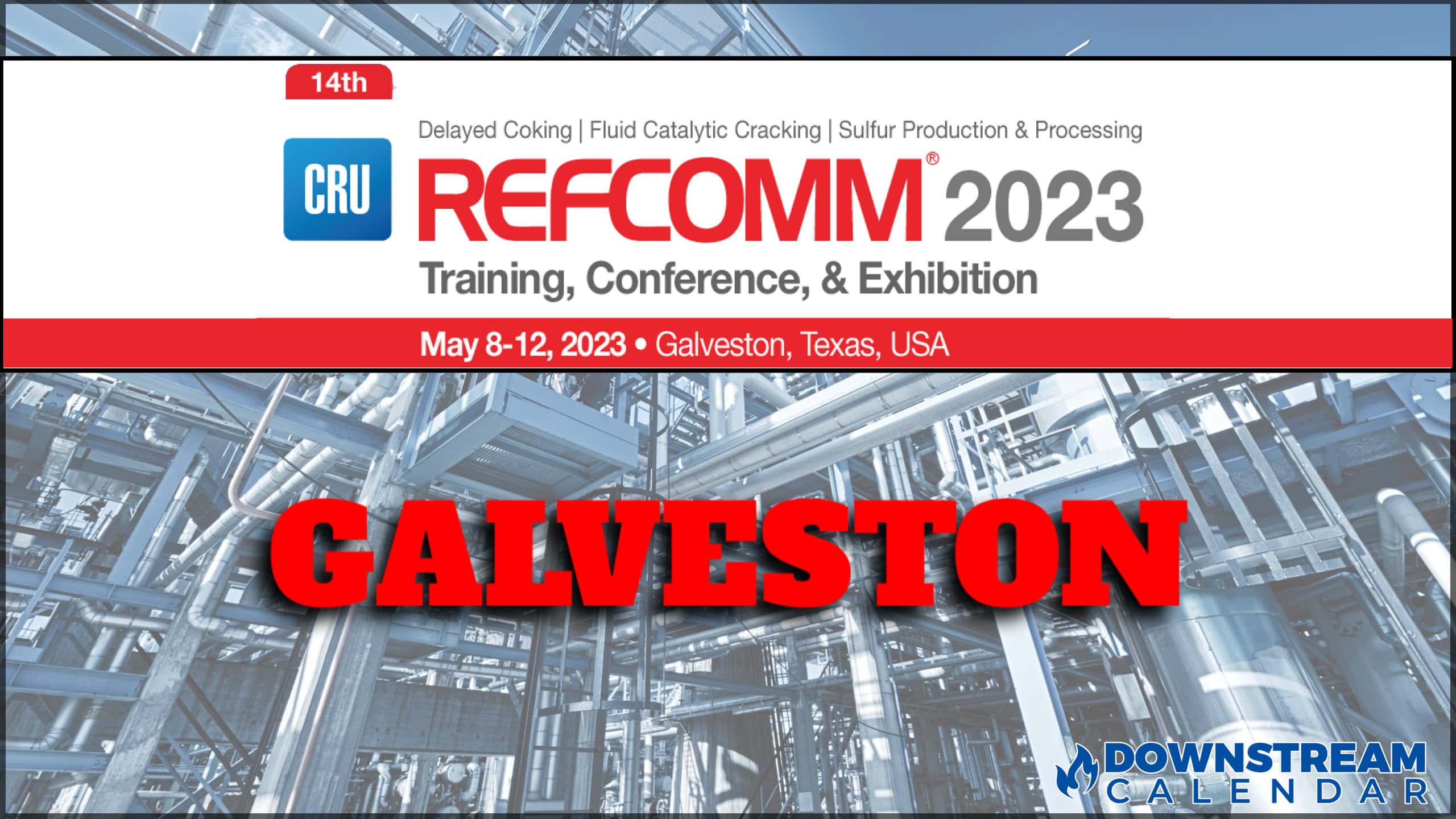 Register Now for RefComm 2023 – Galveston, TX May 9-12
This Event Reminder is Sponsored by:

Join refiners from around the globe at the world's leading technical conference for the refining industry.
RefComm Galveston is a five-day, multi-streamed agenda consisting of two days of training in the delayed coking unit, three days of technical presentations, an exhibition hall for meeting with technical experts and sourcing solutions, breakout discussion groups, and networking.
For almost a quarter of a century, RefComm has been the trusted source for safety training, innovative technology, and best practices in the refinery. We have culled decades of refinery experience into effective, practical solutions that your team can incorporate from the ground up to ensure your unit operates at peak performance, all while protecting your workers. RefComm's technical presentations and training courses are presented by industry leaders alongside a state-of-the-art, interactive exhibition hall featuring innovative tech and real-world solutions for all the challenges you face in your refinery. Now in its 23rd year, RefComm regularly attracts 500-600 attendees from around the globe who specialize in delayed coking, fluid catalytic cracking, and sulfur production & processing units. In 2022, 555 refiners and vendors attended our first live event back after 2 years of being virtual.
Provisional Program for RefComm Galveston 2023
Below is the provisional program for RefComm Galveston 2023 to help you plan your time during the event. Please check back here for program updates, abstracts and speaker information, dates and times:
Coking Hall (10-12 May)
Reduction of Coke Drum Overhead Line Fouling Rate
Daniel Sabud
Petron Bataan Refinery
Rick Heniford's Legacy
Coking.com and others
Bechtel Hydrocarbon Technology Solutions
Coker Person Acheivement Award – Gary Gianzon
Coking.com and others
Marathon Petroleum Company
DCU Unheading Valve Experiences
Urban Showe
EPROM/ERC
Mechanically Dewatering PetCoke using Heavy Duty Vibratory Technology
Ben Belton
General Kinematics
Blowdown Header Failure Learnings
Gustavo Garcia, Rick Lucas, & Andrew Wall
BP
Coker – Feed Preheat Optimization
Mohan Dhas
Lummus Technology
Coker Blowdown Line Integrity
Greg Gaudet
CNRL
Challenges and Lessons Learned in the First Repair of Coke Drums at the Ecopetrol-Cartagena Refinery
Carlos Antonio Ahumada Morales
Ecopetrol
Solving Fractionator FZGO Line Clogging Issue During Start-up
Haizlin Sulaiman
Malaysian Refining Co. Sdn Bhd
First Coke Drums with Tongue-and-Groove Skirt
Dr. Mahmod Samman
Houston Engineering Solutions, LLC
Coke Drum Bottom Flange to BUD Best Practices
DeltaValve, ERC, ExxonMobil, Flexitallic, IMI Critical, YASREF,
Design and Process Considerations when dealing with Low Temperature Drums
Don Tran and Gabi Bergeron
Lyondell-Basell Houston Refining, LP
Advancements in Coke Drum Life Extension Repair Technology and Design
Ronald Payne
WSI (and Chevron)
Massive Clogging in DCU after April 2019 Earthquake Incident
Daniel Sabud
Petron Bataan Refinery
Decarbonizing your Fired Heaters with Hydrogen Fuel
Luke Glashan, P.E.
WOOD Plc.
The Transfer Lines & the Coke Drum – What is going on in there?
Mitchell Moloney
Coking.com
CatCracking Hall (10-11 May)
IIOT and Safety with MEA's FCCU Plug Valve Actuation Technology
Taras Dykun
MEA
Cyclone Metallurgy: Material Selection to Optimize the Reliability and Useful Life of the FCC Cyclone System
Stephen Forry
CECO Emtrol-Buell
The Do's and Don'ts for FCC Refractory
Dan Sack
Becht
Optimize the Reliability of Steam- Assisted Flares
James Risko
TLV
Challenges and Requirements of Proper Operation for Compressor Anti-Surge Valves
Manny Vasquez
REXA
The State of Fugitive Emissions Qualifications
MOGAS
Noninvasive Flow Measurement Developments & Innovations for Severe Service Refinery Applications
Flexim Americas Corporation
Slide Valve Degradation and Preventative Maintenance
Tapco Enpro
FCC Slurry Reboiler Fouling Control and Foulant Removal in an Using Advanced Antifoulant Chemistry
Dan Haabs
Veolia Water Technologies and Solutions
Pre-Cleaning FCC Flue Gas for Carbon Capture
Matthew Gardner
Elessent Clean Technologies (BELCO)
Raman Spectroscopy Applications in the Refining Industry
Dr. Michael Kister & Mr. Tory Woolf
Endress+Hauser USA
The Commissioning of the Campana Refinery FCC Unit: A Case Study
Marcelo Insaurralde
PAN AMERICAN ENERGY
Overview of Husky Superior FCC Explosion (April 26,2018) – CSB Final Report
Neal Cammy
Blac Inc.
Economics of octane loss in FCC gasoline desulfurizers
George Hoekstra
Hoekstra Trading LLC
Impacts of Processing Bio Components in the FCCU
Mel Larson
Becht
Sulfur Hall (9-10 May)
Sulfur Recovery Process, Design, and Troubleshooting
Elmo Nasanto
Nasanto Consulting
Improving Reliability: Managing Sulfur Pit Material Removal Challenges
Thomas Kline
STRUCTURAL TECHNOLOGIES
Solving the Skills Gap Challenges in Sulfur Recovery with Knowledge Automation
Christian McDermott
Voovio
Sulfur Run-down Lines
Brandon Forbes
Controls Southeast, Inc. / Ametek
Sour Water Strippers-Reliable Tools Translate to Reliable Designs
Matthew Bailey
Optimized Gas Treating, Inc.
The Community SWSPlus Concept – Turning Trash To Treasure
Martin Taylor & Charles Kimtantas
Bechtel
Don't Scrap Your Old SRU, Rejuvenate It
Scott Kafesjian
WOOD
Raman Spectroscopy Applications in the Refining Industry
Dr. Michael Kister & Mr. Tory Woolf
Endress+Hauser USA
MOTIVA PAMC Sulfur Tank Lowered Emissions and Sulfur Pit Degassing
Ron Pitman
Motiva PAMC
SRU Overpressure: A Practical Discussion of Risks and Mitigations
Joe Brindle
Sulphur Experts – Amine Experts