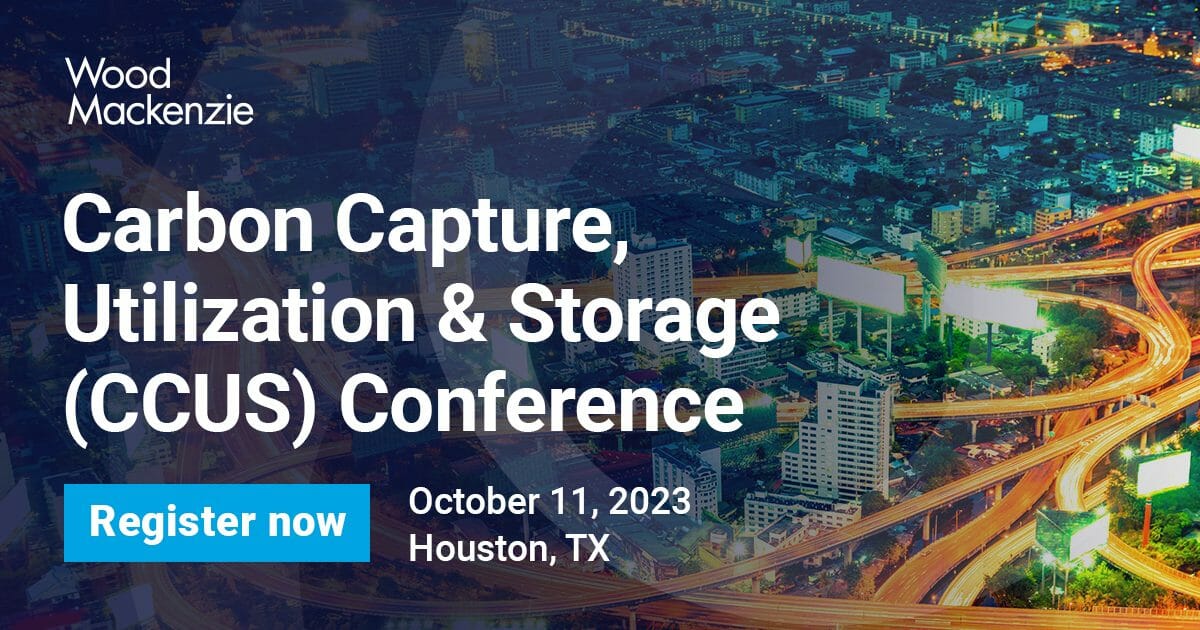 Register Now for the 2023 Carbon Capture, Utilization and Storage Conference 10/11 by Wood Mackenzie – Houston
This Event Reminder is Sponsored by:

Navigating uncertainty in the transition to a carbon-free world
Overview
Carbon Capture, Utilization, and Storage (CCUS) is gaining pace as a key energy transition technology. As companies and governments recognize its important role, our analysis shows CCUS emerging from a niche market towards a mainstream investment theme. Yet, achieving net zero ambitions at pace and with investible opportunities remains challenging.
Join us on at this conference on October 11 in Houston, TX where you will have the opportunity to hear insight from Wood Mackenzie's experts and the industry's leading players on the following topics:
The Inflation Reduction Act: the policy that's the envy of project developers worldwide. What impact has it had for CCUS 12 months on?
CO2 sequestration at scale: Where is all the carbon going?
The CCUS value chain: insight into the costs and economic feasibility of landmark projects
Getting heavy industry on board: a shift towards abating energy's Scope 3 emissions
Corporate portfolios: how companies are delivering on net zero targets with CCUS
Global policies: creating an ecosystem where CCUS is safely incentivized
Hydrogen's moment: the opportunity in low-carbon hydrogen and its derivatives
Downstream Calendar visitors can get a 15% discount on their tickets with promo code CCUS15