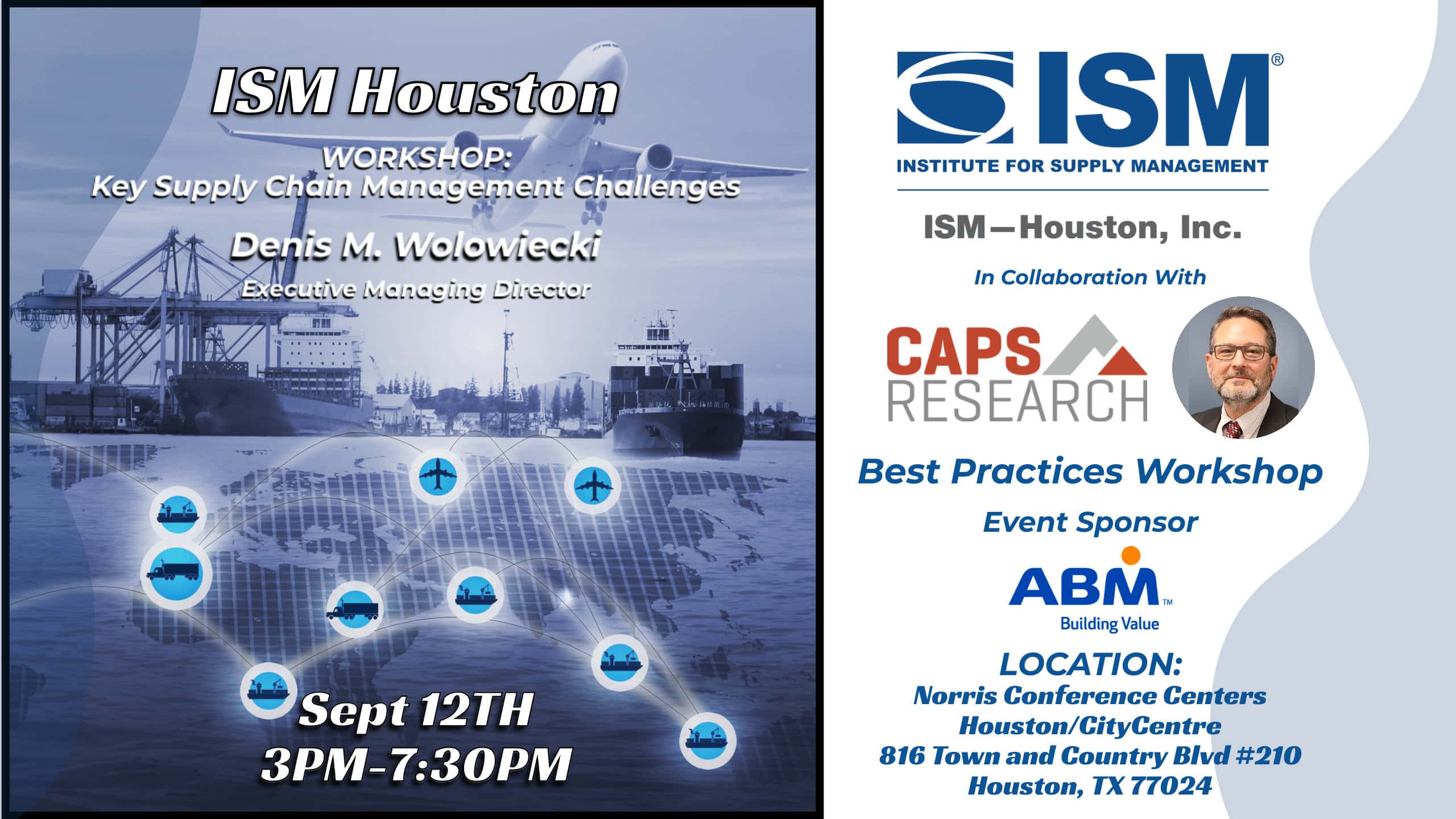 Register Now for the 2023 ISM-Houston & CAPS Research Best Practices Workshop 9/12 – Houston
This Event Reminder is Sponsored by:

AGENDA:
3:00 PM – 3:30 PM Registration
3:30 PM – 6:00 PM Best Practices Workshop
6:00 PM – 7:30 PM Networking Buffet Dinner
Don't miss this first-of-its-kind event for the Institute for Supply Management (Houston)!
ISM-Houston & CAPS Research are collaborating for an interactive workshop addressing Key Supply Chain Management Challenges and industry Best Practices.
The purpose of the ISM-Houston Workshop supported by CAPS Research is to create a forum where practitioners in Supply Chain execution can share key lessons learned along with what actions can and are being taken to mitigate "Key Supply Chain Management Challenges".
Supply Chain Executives and Leaders will facilitate give-and-take table discussions with attendees on these timely topics. The tables will report out amongst the group and will have access to the data and feedback from the event.
Tuesday – September 12th – Norris Conference Centers – CityCentre – 3 p.m. – 7:30 p.m.
Denis M. Wolowiecki, of CAPS Research, will provide their data based industry BEST PRACTICES!
Denis M. Wolowiecki is Executive Managing Director of CAPS Research, a nonprofit research center for supply management leaders. Prior to joining CAPS, Mr. Wolowiecki recently held executive supply chain and sourcing positions with Vitalant, Husqvarna Group, Aleris International, Inc., and Goodyear Tire & Rubber Co. He also offers more than a decade of supply chain consulting knowledge from work with Accenture and KPMG. Mr. Wolowiecki holds an MBA focused in Operations and International Business from Kent State University and a B.S. in Mechanical Engineering from Ohio Northern University.
As an added bonus, CAPS Research will provide this information to all attendees regardless of CAPS membership!
Refreshments and Buffet Dinner Included – Cash Bar Available
By registering for this event, you provide ISM-Houston, Inc. your consent to be included in photographs and video recording of the event. Attendance and participation at your own risk.
Institute Supply Management -Houston Anti-Trust Compliance Statement
All participants are expected to comply with these guidelines at all times during ISM-Houston events.
1. Participants will not undertake any activity which involves exchange, or collection and dissemination among competitors of any information regarding supplier or subcontractor prices, fees, rates, or methods of computing same.
2. Participants will not present or disseminate information of, suppliers', or subcontractors' performance in the execution of their scope of work or supply.
3. No activity or communication shall include any discussion which might be construed as an attempt to prevent any person, or business entity from obtaining goods or services freely in the market.
4. Participants will not conduct activities or any discussion which might be construed as an agreement, or understanding to refrain from dealing with any supplier of materials, equipment, services or other supplies.
5. The meeting and its activities shall not be used for the purpose of bringing about or attempting to bring about any understanding or agreement, written or oral, formal or informal, expressed or implied, among competitors with regard to prices, fees, rates, terms, conditions, territories or customers. Discussion of such matters is specifically prohibited.