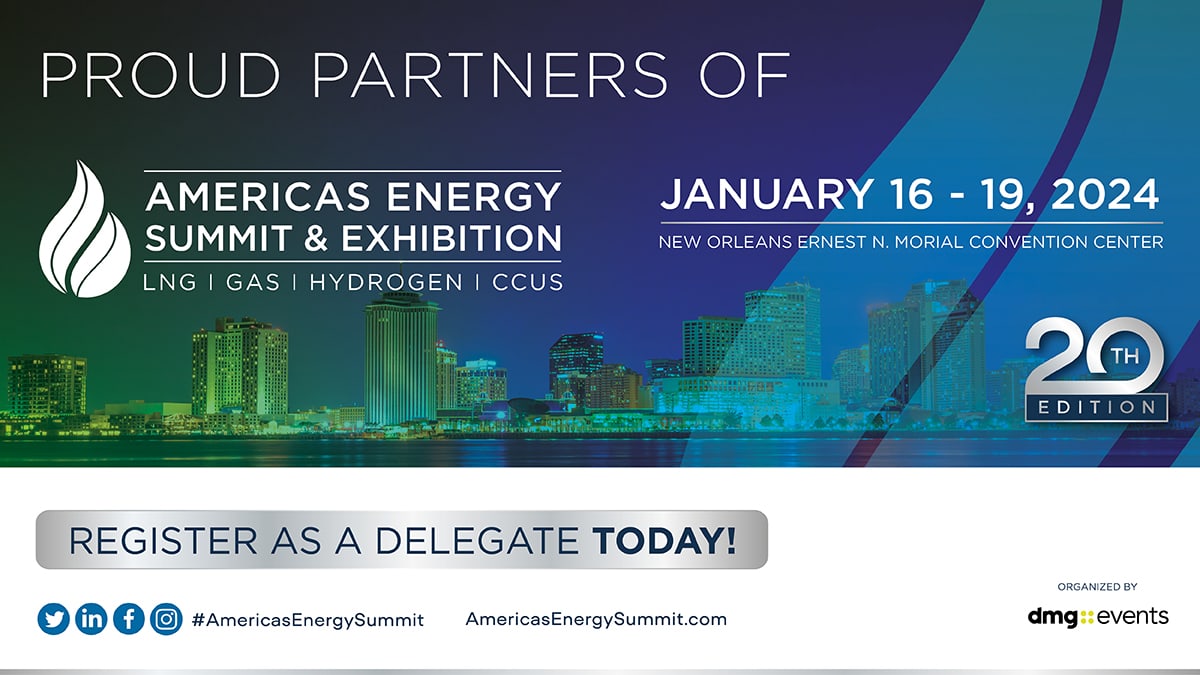 Register Now for the 2024 Americas Energy Summit LNG | GAS | Hydrogen | CCUS Jan 16-19, 2024 – New Orleans
This Event Reminder is Sponsored by:
The Leading International Summit & Exhibition For The LNG & Gas Industry In The Americas
The 20th Americas Energy Summit & Exhibition will return to New Orleans, Louisiana, on Jan 16-19, 2024 at a critical time for the industry. Energy security and price volatility have become two of the most pressing political issues of the age. The need for US LNG to supply and deliver has never been greater. As the world's largest exporter and key swing supplier, buyers across the world look to the United States for solutions.
Hosted at Louisiana's only international container port the event is an international networking hub for the LNG, Gas and Hydrogen value chains to share market insights and exchange ideas.
In 2003 the Americas Energy summit opened its doors, offering a platform for professionals within the LNG and Gas sectors to meet, share knowledge, collaborate, and strike up business opportunities.
As 20 years have passed the energy landscape has changed and evolved dramatically, with gripping political, economic, and natural occurrences taking effect on this key part of the global infrastructure and shaping the way in which professionals operate within it.
Throughout this change, the Americas Energy Summit has progressed alongside the communities we serve, adapting to provide relevant and strategic insights, provide high-level networking and the opportunity benchmark and remain competitive.
Moving from region to region across the Americas, and taking the global industry with us, it has been our pleasure to welcome new sectors, new countries, new innovations and create the mainstage for energy events in the Americas – the longest serving B2B energy event in existence to date.
Join us as we celebrate 2 decades of shape shifting and introduce new concepts to help you navigate current challenges, including topics around the race to net zero, the growing importance of hydrogen, CCS/CCUS, technological advances and more.
The Strategic Conference will feature leaders from the entire LNG, gas & hydrogen value chains, including energy producers and consumers, policy makers, financiers, and technology providers in the Americas and globally. The discussions will focus on pressing industry topics that will encompass major industry trends such as macroeconomic developments, net zero ambitions, project financing, decarbonization technologies, infrastructure developments and strategies to attract new talent to the industry.
The 20th Americas Energy Summit Strategic Conference will be the defining meeting place for the industry to share their insights, collaborate, foster new relationships and build a secure energy future with LNG, gas and hydrogen presented as the fuels of today and the future.
Join hundreds of your industry peers at the Strategic Conference this Fall and become the catalyst for industry change and development.