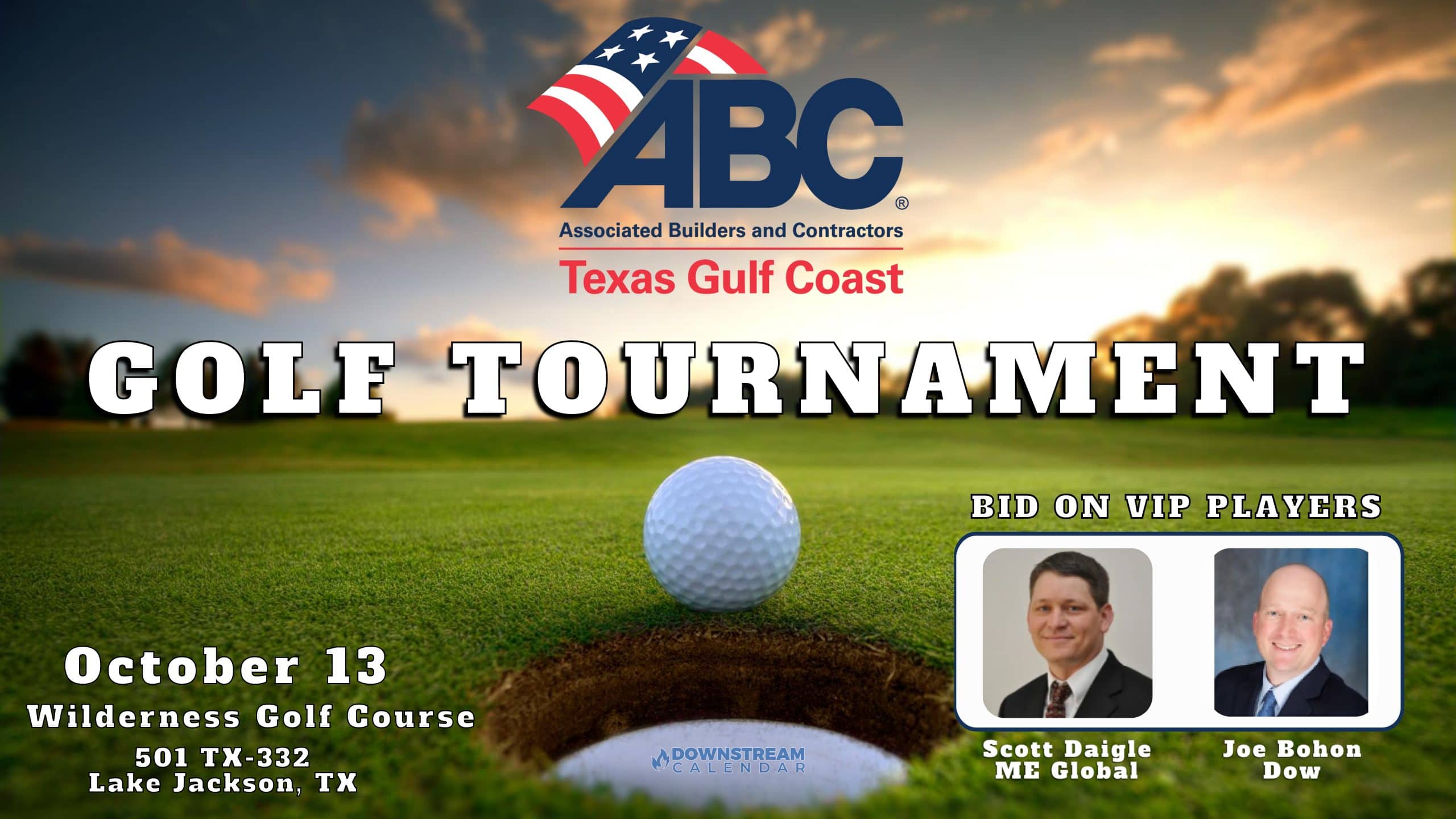 Register Now for the ABC Texas Gulf Coast Golf Tournament October 13, 2023 – Lake Jackson
This Event Reminder is Sponsored by:

Event Description
Join us at our 37th Annual ABC Texas Gulf Coast Tournament. It's a day packed full of fun in the sun, mouthwatering food and a day to make connections with other members.
This is our first year with VIP Golfers so please check out our current available players. Deadline to bid will be Tuesday, October 10.
Email questions to Michelle Heredia mheredia@abctxgulfcoast.org or call 979-233-0279
VIP Players to BID On: 
About ABC 
Associated Builders and Contractors is a national construction industry trade association representing more than 22,000 members.
Based on the merit shop philosophy, we help our members develop people, win work and deliver work safely, ethically and profitably for the betterment of the communities in which they work.
The primary objective of this Association is to foster and perpetuate the principles of the Merit Shop, Open Competition and Free Enterprise as listed in Article I of our Bylaws.
In addition to this primary objective, this Association shall pursue and promote the following activities:
Encourage, develop and protect the construction industry.
Promote confidence and goodwill within the building and construction industry and between this industry and the general public.
Organize builders, general contractors, specialty contractors, suppliers and related groups of all kinds into Chapters and organizations in order to encourage the free interchange of views and techniques and to facilitate the accomplishment of the primary objectives of the Association.
Organize and promote meetings, seminars, conferences, publications and other media of all kinds in order to maintain a well-informed industry and general public.
Promote and encourage continuing education, apprenticeship and other training programs for management and the crafts within the construction industry.
Promote safety and training within the construction industry.
Promote insurance, hospitalization, pension, training and other programs for the benefit of the general welfare of the employees of the Merit Shop industry.
Promote the ABC Code of Ethics for the construction industry as provided in the ABC National Policy & Procedures Manual.
Promote such other activities or services as may benefit the membership, further the objectives of ABC, and promote the principles of the Merit Shop, Open Competition and Free Enterprise.
Follow www.DownstreamCalendar.com for upcoming industry events. Downstream Calendar was created to help synchronize the industry by providing a free lookahead for key industry events across the country. We focus on non-profit support, community, and industry specific trade shows and downstream conferences for refining plants, chemical plants, fertilizer plants, terminals, storage facilities, LNG plants, syngas, and bio mass. Follow MidstreamCalendar.com for Midstream Events. We are the original energy calendar that bring together All Streams of Energy. 2023 Oil and Gas Events added every day.