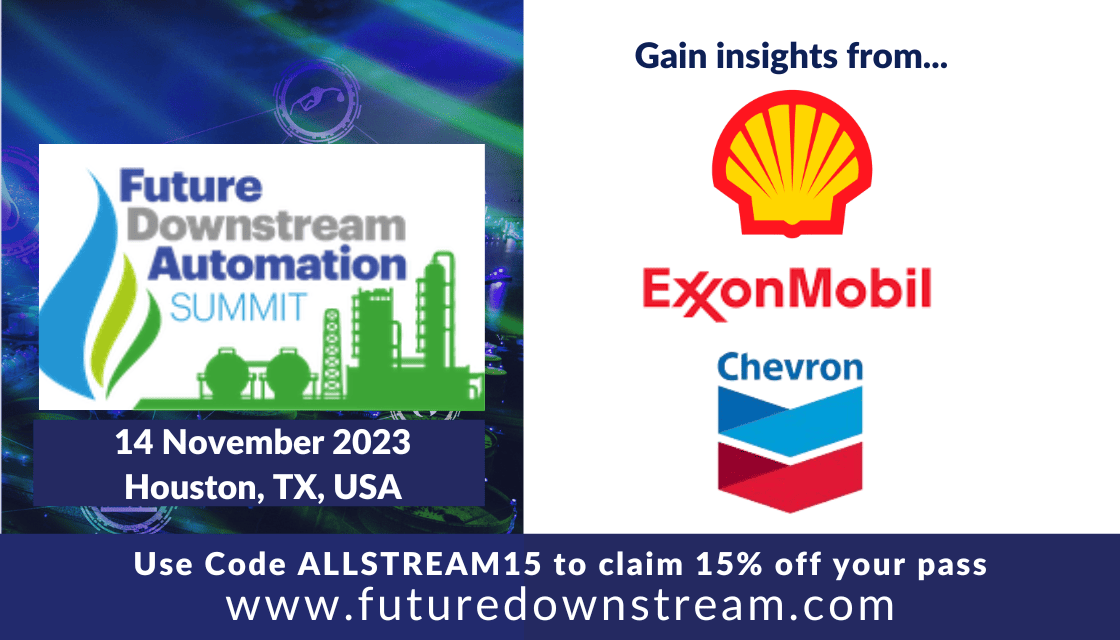 PROMO CODE: ALLSTREAM15 for 15% OFF – Register Now for the Future Downstream Automation Summit on 14 November 2023 in Houston, TX
This Event Reminder is Sponsored by:

Date: 14 November 2023
Location: Hyatt Regency Intercontinental Airport Hotel, Houston, TX, USA
Embracing Asset, Process and Workforce Digitalization for Intelligent, Future-Proof and Sustainable Downstream Operations for Oil, Gas and Chemical Organizations.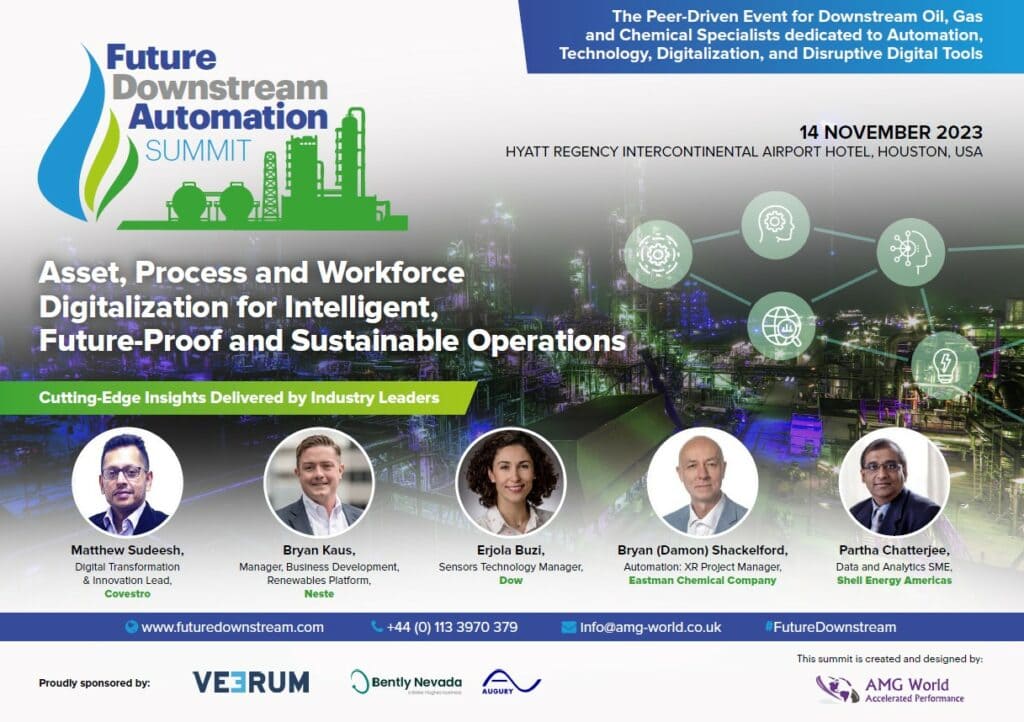 Description:
For downstream operators, implementing technology at pace and scale whilst replacing traditional workflows is an ongoing challenge. The Future Downstream Automation Summit will unite digitalization industry leaders to future-proof your organization against price volatility, sustained market uncertainty, and an increasing drive towards net zero goals.
Join us on 14 November 2023 in Houston, TX to hear oil, gas and chemical leaders share their best practice strategies for leveraging Automation, IIoT, AI, ML, Digital Twins, and Emerging Technologies. Reap the benefits of increased cost-savings, superior decision-making, and optimized efficiency, safety, and reliability across your Downstream assets, processes, and workforce in this collaborative environment.
Case Studies from Downstream Digitalization Specialists Include:
• Brent Railey, Manager of Data Science, Chevron Phillips Chemical Company
• Matthew Sudeseh, Digital Transformation & Innovation Lead, Covestro
• Erjola Buzi, Sensors Technology Manager, Dow
• Bryan (Damon) Shackelford, Automation: XR Project Manager, Eastman
• Lance Medlin, Chief Operating Officer, Element Fuels
• Bryan Kaus, Manager – Business Development, Renewables Platform, Neste
View this year's agenda to discover how you can:
Implement and scale adoption of automation, disruptive technology, and digital tools for cost reductions, asset optimization, enhanced operational efficiency, increased reliability, and improved safety
Transform downstream operations with real-time asset connectivity and improved operational transparency, for enhanced data-led decision-making, increased collaboration, and optimized workforce capabilities
Align stakeholders, define infrastructure needs, manage budgets, secure investment and meet resource requirements for successful downstream innovation
Join Downstream Calendar Resources at Future Downstream Automation Summit on 14 November 2023 in Houston and register today using our 15% discount code ALLSTREAM15