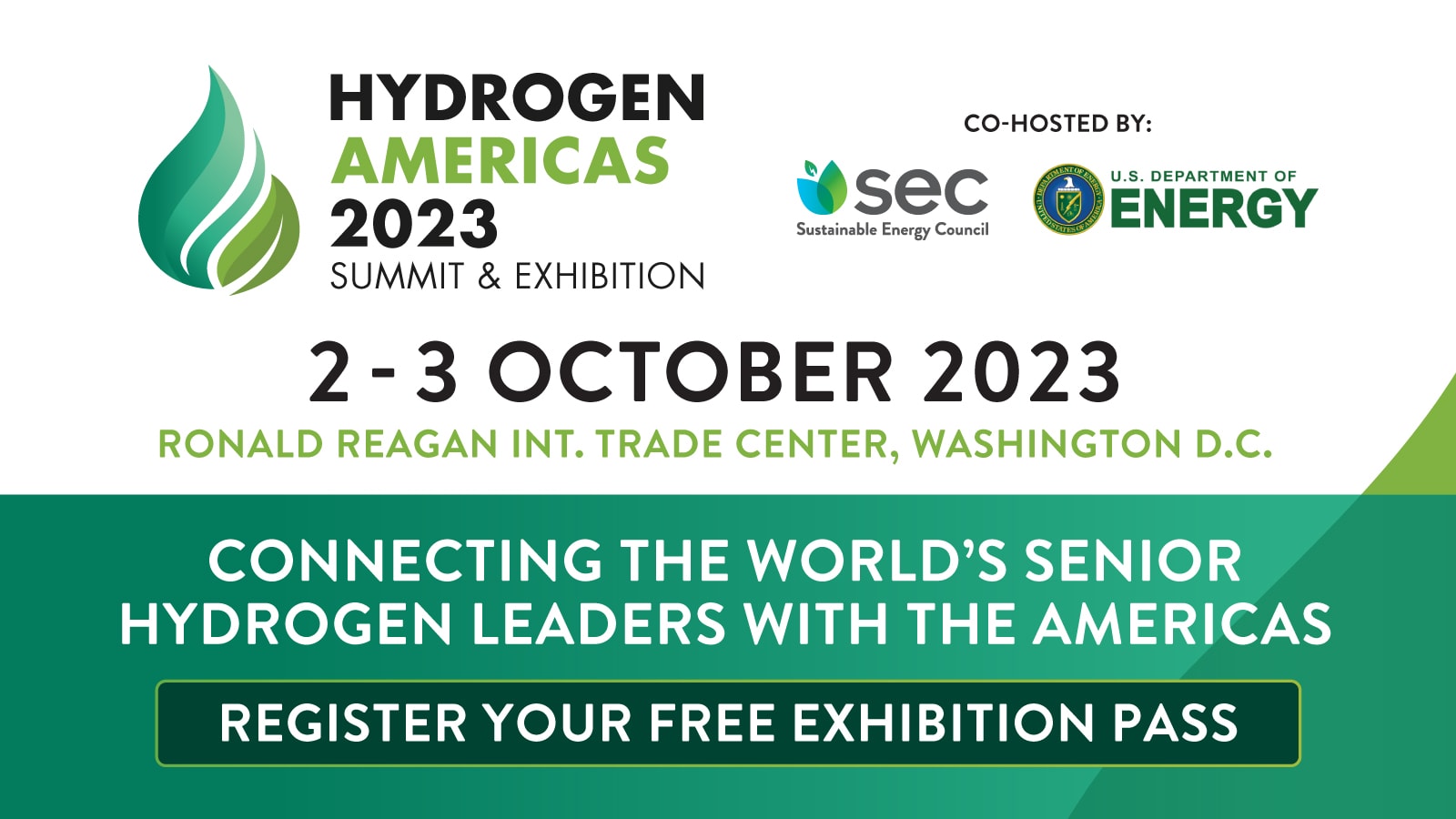 Register Now for the Hydrogen Americas Summit & Exhibition October 2, 3, 2023 – Washington, DC
This Event Reminder is Sponsored by:
Following the sell-out Summit in 2022, the Sustainable Energy Council (SEC) and the U.S. Department of Energy are delighted to announce the Hydrogen Americas Summit & Exhibition returns to Washington D.C. on 2 – 3 October 2023. 
This year's edition will take place at the Ronald Reagan International Trade Center, featuring the popular Strategic Summit and two exciting new additions: a World-Class Exhibition and a Tech Series stage enabling twice as many companies and industry professionals to participate and develop new partnerships in the sector. Read the Brochure
2023 will be a defining year for the hydrogen sector globally, with public and private sector investments flooding the market. The U.S. has taken the lead with its funding announcements, including the Inflation Reduction Act which is seen as a game changer as it becomes the most generous subsidy scheme in the world. Many countries, like Canada, are responding to the U.S. announcements by deploying their own competitive tax schemes, and effectively fueling a new hydrogen race. 
The Hydrogen Americas Summit & Exhibition is recognized as the place to meet and do business with the growing hydrogen sector in the Region. Meet with over 3000 industry leaders from across the value chain, including government representatives, hydrogen and energy stakeholders, service providers and end-users who will be showcasing the latest technologies, project developments and policy mechanisms that will enable the hydrogen market to reach its full potential. 
Register your place today to connect with new business partners and exchange the latest insights to make your hydrogen project a reality.
If you are wondering when the 2024 Hydrogen Americas Summit will be, look no further. The 2024 Hydrogen Americas Summit & Exhibition will take place in Washington, DC at the Ronald Reagan International Trade Center on June 11-12, 2024. Click this link to find out more
Register here for the Hydrogen Americas Summit and Exhibition June 11-12, 2024 – Washington, DC – Exhibition Visitor Pass FREE