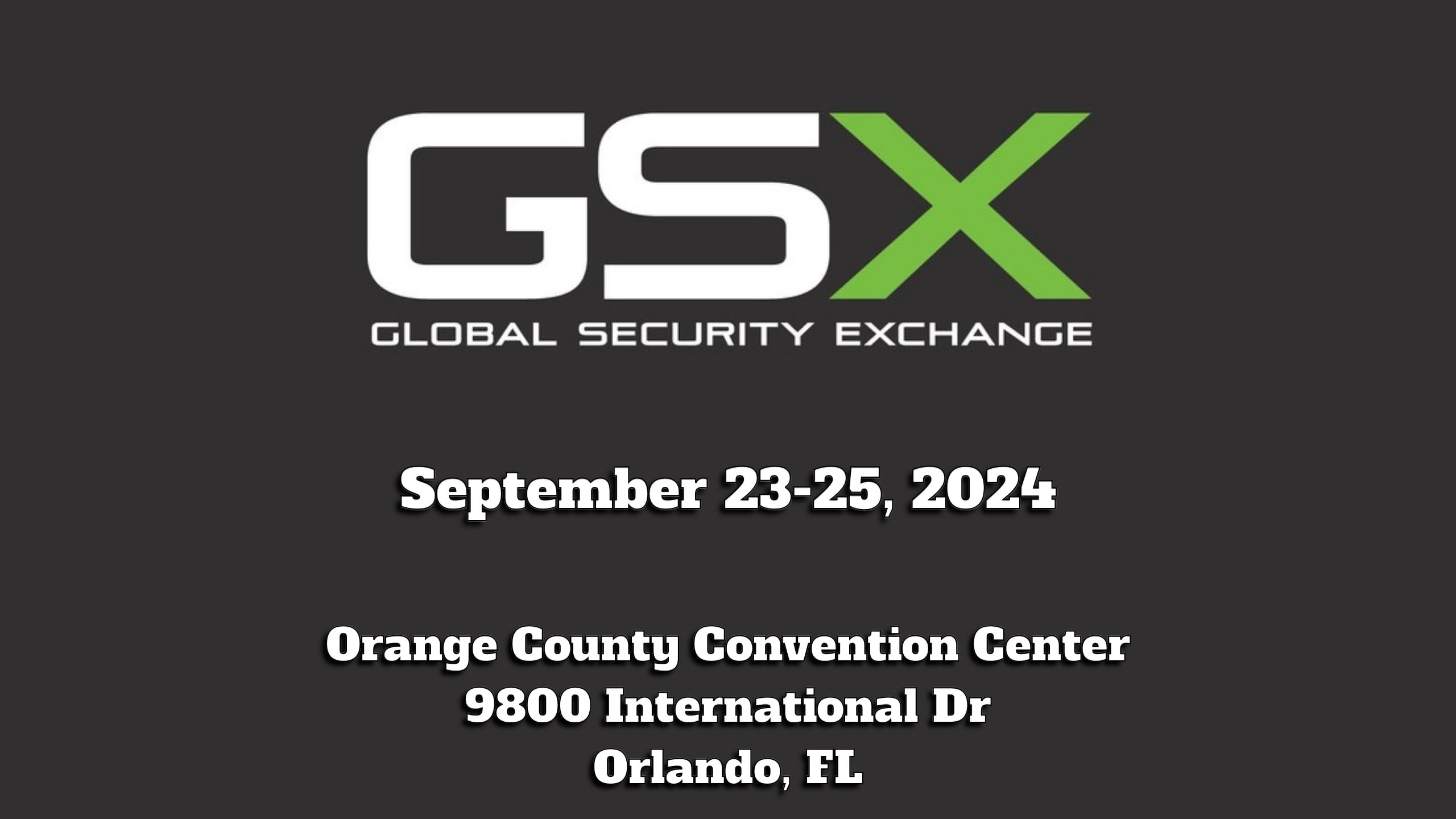 Save-The-Date for GSX 2024 – Global Security Exchange powered by ASIS September 23-25 – Orlando, Florida
This Event Reminder is Sponsored by:

Security demands staying a step ahead. Attending Global Security Exchange (GSX) yearly ensures you never fall behind. Be there when the worldwide security industry reconvenes in September to stay informed, connected, and prepared for what's next.
Access CPE-eligible education on the most pressing issues impacting the profession in 2024 and beyond.
Build or strengthen professional networks and connections.
Develop strategies to remain resilient against evolving cyber and physical threats.
Discover new products, technologies, and services to advance your capabilities in our expansive exhibit hall.
Brought to you by ASIS International—the world's largest membership organization for security management professionals—involvement in GSX directly supports the funding of scholarship for security professionals and the administration of essential industry certifications, standards, and guidelines.
Stay Change-Ready
Join security leaders and practitioners from every industry and sector to gain the knowledge and capabilities you need to anticipate security's evolving variables and navigate the risks. Learn more and leverage the opportunity to cultivate the skills, knowledge and confidence you need to eliminate emerging threats.
Make A Difference with Local Non-Profits
Did you know that GSX has a significant economic impact on each city we visit? Building on a long-standing commitment, ASIS International has made a promise each year to leave GSX Host Cities better for having been there. In 2022, GSX brought $17.5 million to Atlanta, and directly supported 5,000 jobs. In 2023, we would like to take that a step farther, providing you – our attendees – with an opportunity to directly support individuals impacted by laws, social justice issues, and economic challenges which may prevent them from living in a safe, secure, and healthy environment.
We are partnering with SocialOffset, a nonprofit organization that will funnel 100% of the funds you donate to these vetted, local Dallas non-profits that deliver programs, services, and advocacy for racial justice, LGBTQ+ equality, hunger relief, housing security, environmental sustainability, and the fight against human trafficking. These organizations have been chosen in alignment with ASIS' DEI efforts, and in the interest of doing our best to honor the commitment of our members to keep ALL persons safe and secure.
PROGRAM Overview on GSX 2024:
MIND YOUR MISSION: GSX 2023 PROGRAM
Join security leaders and practitioners across every industry and sector to gain the knowledge and capabilities you need to translate thought leadership into action. A world-class lineup of sessions and speakers will uncover the topics and tactics you need to know to stay vigilant today and as security's landscape evolves.
Learn more about how GSX 2023 education can help you cultivate the skills, know-how, and confidence to neutralize existing threats, navigate emerging risks, and advance your career.
Pre-Conference Programming
General Sessions
Explore GSX 2024's general sessions to learn new solutions, threat intelligences, and global perspectives. Join this year's keynote speakers, leading experts in the security industry. Discover the topics and themes that will be uncovered.
Learning Sessions
Explore GSX 2023's learning sessions that cover a broad range of security topics from artificial intelligence, to active shooters, to workplace diversity. There's a session for everyone. Learn more about a new field or accelerate your own understanding.
Special Features
Discover new security technologies, education, and networking events right in the Global Security Exchange exhibit hall. Immerse yourself in a dynamic learning environment that challenges and inspires, as you explore solutions that will shape the future of security management.
GSX Digital
Through GSX Digital, you can unravel educational content and witness cutting-edge product demonstrations from any corner of the world, eliminating geographical barriers. Join us online and unlock the boundless learning opportunities of GSX from the comfort of home.
ACCESS YOUR MISSION ONLINE : EXPLORE SECURITY SOLUTIONS WITH GSX DIGITAL
Safeguarding your organization's assets often requires you to remain stationed at your post. At Global Security Exchange (GSX), the premier conference for security professionals worldwide, we understand the challenges you face. That's why we empower dedicated security professionals with unrivaled accessibility through global access. Gain the upper hand by unlocking GSX's exclusive educational content and cutting-edge product demonstrations from anywhere in the world with online programming. Discover a world of advantages that elevates your security expertise to new heights.
When you register to attend GSX digitally with an All-Access Pass, you'll remain connected to the global security community through:
Three livestreamed Concurrent Sessions per time slot
Three exhibit hall education sessions per time slot:
Cybersecurity Pavilion
UnCrewed U
X Stage
Two rebroadcast Game Changer Sessions
On-demand content through the end of 2023
Ability to earn 22 CPEs