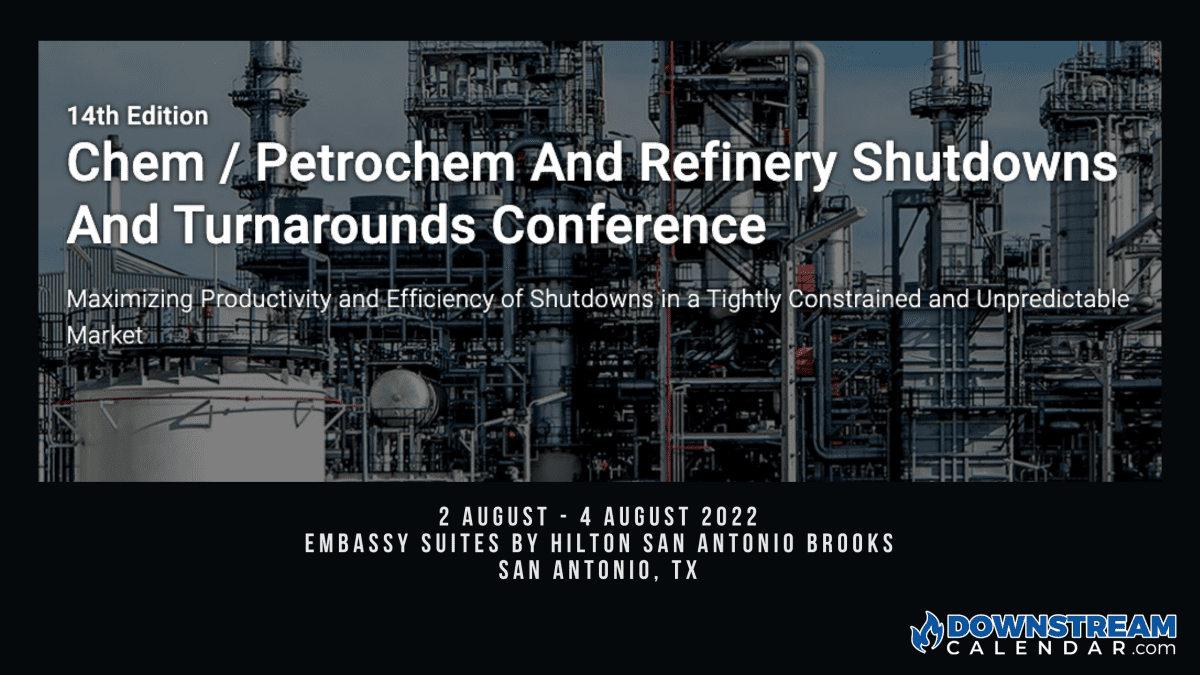 14th Edition Chem / Petrochem And Refinery Shutdowns And Turnarounds Conference Aug 2-4 – San Antonio
This Event Reminder is Sponsored by:

This marcus evans conference will provide thought provoking insights for charting a new path for the turnaround labor market, circumventing high lead-times and material costs by using non-traditional procurement and value stream techniques, and minimizing costs and budget overages through techniques like detailing prescriptive criteria in premise documents, harnessing remote technology, and much more.
8.2.2022 – Day 1
7:30 AM
Registration and Morning Coffee
8:30 AM
Safety Briefing
8:45 AM
Chairperson's Opening Address
Frank Engli
Senior Advisor
BECHT
CHARTING A NEW PATH TO OVERCOME THE OMNI-PRESENT LABOR CRISIS IN TURNAROUNDS/SHUTDOWNS
9:00 AM
Solving the Labor Crisis in TARs by Creating Market Alliances and Leveraging Alternative Methods in the Absence of Workers
Emphasizing the importance of including policies that promote both traditional and vocational education to ensure competency of turnaround workers
Creating alliances with tertiary institutions to determine the most effective apprenticeships and training programs
Examining how unions could play an integral role in developing the labor market in turnarounds·
Weighing the benefits of partnering with craftsmen sourcing companies
Leveraging alternative methods that turnaround managers could exploit in the absence of workers
Bob Collins
Senior Labor Economist
Buildforce
Frank Engli
Senior Advisor
BECHT
9:45 AM
Using Drones and 3D Digital Twins to Optimize Asset Inspections and Turnarounds
Reviewing the evolution of digital twin technology in asset inspections
Describing key TAR challenges and how digital twins address them in each phase of the turnaround process
Exploring case studies of how leading companies are using digital twins to improve operational efficiencies, reduce costs and improve employee safety.
Tracking performance metrics and typical ROI from digital twin usage in STOs
Ed Sztuka
Chief Revenue Officer
Optelos
10:30 AM
Demanding Succession Planning for the New Generation of TAR Professionals to Safeguard Intelligence at the Plant
Identifying key TAR/STO roles for succession or replacement planning
Defining competencies required to undertake TAR/STO roles identified for succession planning
Assessing people against these criteria – with a future orientation
Building a talent pool that could potentially fill and perform highly in key roles
Developing employees to be ready for advancement into key TAR/STO roles
Frank Engli
Senior Advisor
BECHT
11:15 AM
Networking Break
11:45 AM
Panel Discussion
Realizing the ROI Stemming from Lessons Learned Throughout and After the COVID-19 Pandemic
Best practices used to manage the threats posed by COVID-19 on turnaround efficiency
Acquiring digital tools (i.e electronic permitting) to manage and control safe work permits and enhanced scalability for turnarounds
Segregating Permitting to the fields to streamline processes
Having contingencies in place for when workers get COVID-19
Deciphering how COVID-19 has changed the labor force's opinion on working in turnarounds
Panel Moderated By
Frank Engli
Senior Advisor
BECHT
Panelists
Lee Posey
Global Turnaround Engineer
Nouryon
Ron Bettin
Turnaround Director
Energy Transfer (Canada)
12:30 PM
Luncheon
TAKING CONTROL OF THE SHUTDOWN THROUGH STANDARDS OF EXCELLENCE IN PLANNING
1:30 PM
Bridging the Gap between The Office and The Field Team to Ensure Turnaround Processes and Strategic Objectives are Succinct at the Plant
Weighing the ramifications of differences of opinion between procurement personnel and the TAR field team could affect efficiency of the event
Addressing the performance gaps associated with companies that lack full-time TAR staff
Evaluating the impact of having most TAR/STO planning and execution tools in-house
Determining the areas where management could be flexible and inflexible with TAR/STO staff
Ron Bettin
Turnaround Director
Energy Transfer (Canada)
2:15 PM
Enhancing Techniques in Effective Project Coordination for Lifting and Rigging in Routine, Complex, and Critical Lifts with Heavy Lift Cranes
Examining best practices for routine lifts
Analyzing complex and critical lifts
Reviewing large crawler crane usage
Ensuring large scale project coordination
Rick Bohne, Jr.
Director – Sales & Marketing
Mammoet USA
3:00 PM
Networking Break
3:30 PM
Handling Scope Freeze and Late Scope Additions through Comprehensive Scope Management to stay on or under budget
Appreciating the role of the steering team throughout the preparation and execution of the turnaround
Employing clear messaging from the turnaround team to ensure effective scope gathering
Setting scope and risk-based criteria in the scope challenge to assess whether work can be performed effectively and efficiently on-line or offline
Determining a Scope Freeze Date to focus on delivery execution
Enforcing stringent guidelines in the change control for emerging work to eliminate unwarranted additions to turnarounds
Gordon Lawrence
Regional Manager
BECHT
4:15 PM
Examining How Digitalizing Work Process at Invista Led to Operational Excellence
Implementing a mobile work execution platform to improve their real-time visibility and performance during STOs
Connecting workers and enabling them to digitally receive detailed task definitions and supporting work package information in the field
Empowering managers to receive real-time activity status information highlighting risks and supported better decision making
Enabling data-driven Contractor Performance Management
Mike Goranson
Turnaround Execution Coordinator
Invista
Daniel Goulet
Director of Customer Success
Mobideo
5:00 PM
Closing Remarks, End of Day One, and Drinks Reception hosted by AMECO
8.3.2022 – Day 2
7:30 AM
Registration and Morning Coffee
8:30 AM
Safety Briefing
8:35 AM
Chairperson's Opening Address
Lee Posey
Global Turnaround Engineer
Nouryon
TAKING CONTROL OF THE SHUTDOWN THROUGH STANDARDS OF EXCELLENCE IN PLANNING [CONTINUED]
8:45 AM
Utilizing Clear Scope Definitions and Criteria for Scope Optimization in a Turnaround
Leveraging the full capabilities of the premise document to take control of a turnaround
Learning to include prescriptive criteria in the turnaround premise document to limit cost overruns
Incorporating strategic planning objectives to have a clear vision of what the end state of the asset should be after the turnaround
Specifying how work items that meet the specific scope criteria and contributes to the strategic objectives
Gordon Lawrence
Regional Manager
BECHT
9:30 AM
Assessing Digitalization of EH&S for Construction Projects and Mega Turnarounds
Examining how Dow is utilizing a Connected Workforce platform to transform communication and performance of field activities
Focusing on connecting existing systems, data, and people to optimize complex work processes
Empowering collaborative teamwork: managers receive real-time visibility and insights into the most detailed elements of all remote work activities – including inspections, EH&S, and contractor management.
Daniel Goulet
Director of Customer Success
Mobideo
Jeremy McAlister
Senior EH&S Delivery Technician
Dow
10:15 AM
Networking Break
10:45 AM
Leveraging Industries New & Innovative Ways of Maximizing Turnaround Planning and Scheduling Resources, and Minimizing Cost Burdens to the Plant
Examining COVID -19 and Social Distancing is impacting Turnaround Planning, Scheduling, and Preparations
Analyzing new opportunities generated by remote work, including cost savings to many clients
Strengthening the workforce engagement through remote work
Navigating Remote Planning & Scheduling (RPS) for the future
Preparing an organization for the transition to the RPS process
Mark Tauber
Director of Operations
KAP Project Services, LTD
Steve Pipkin
Vice President of Operations
KAP Project Services, LTD
11:30 AM
Assuring asset Integrity by effective corrosion management and application of Risk-Based Inspection methodology
Highlighting the fundamentals of implementing risk based inspection and associated impact in asset life cycle
Identifying the Key elements for ensuring effective corrosion management in facilities
Managing risks and relevant interfaces in ensuring application of Risk based Inspection
RBI Benefits, constrains and opportunities in optimizing turnarounds
Joseph Babatunde Akanni
Team Lead Corrosion and Inspection
Shell Petroleum Development Company
12:15 PM
Luncheon
1:15 PM
Streamlining the Project by Building an Effective Bill of Materials, Work Packages and Managing Kit Packages
Creating an accurate Bill of Materials to prevent halts in production
Discovering the essential items needed in work packages to ensure that all turnaround jobs are prepared for a safe and efficient execution
Reducing delays of the project through kit management
Gary Hajek
Turnaround Planner
Dupont
SAFEGUARDING AN INCIDENT-FREE & SEAMLESS SHUTDOWN EXECUTION BY HARNESSING EFFECTIVE COMMUNICATION TECHNIQUES
2:00 PM
Panel Discussion
Determining the Best Tactical/Technical Flow of Communication to get Sound Reporting and Swift Decision-Making
Implementing a communications plan and detailed organizational workflow to ensure the shutdown team identifies the reporting criteria
Selecting human resources to be used for communicating prior, during and post turnaround
Using a value stream to continuously link critical elements and personnel of the project to prevent miscommunication and inefficiencies
Deploying innovative technologies that communicates information real-time between various field and office personnel for prompt insights and reporting of the event
Panel Moderated By
Lee Posey
Global Turnaround Engineer
Nouryon
Panelists
Frank Engli
Senior Advisor
BECHT
Ron Bettin
Turnaround Director
Energy Transfer (Canada)
Joe Jackson
Process Quality Assurance Lead
Formerly of LyondellBasell
2:45 PM
Networking Break
3:15 PM
Evading Untimely Risks of Incidents through Documentation, Communication and Awareness of New Health and Safety Procedures
Writing an effective safety planning document which illustrates the communication requirements and expectation of everyone involved
Sharing how Covid-19 has changed safety management policies and procedures for turnarounds
Executing a comprehensive risk-assessment pre-event to determine the full-extent of risks
Minimizing time and costs of briefing workers on potential threats by using targeted safety management platforms
Safeguarding approval from inspectors with a well-scribed documentation of plant maintenance
Joe Jackson
Process Quality Assurance Lead
Formerly of LyondellBasell
4:00 PM
Examining the Pros and Cons of Capital Project integration in a TAR
Scrutinizing whether pressure for reduced operating costs and improved plant flexibility warrants capital project integration in a turnaround
Differentiating between how project teams plan and execute work-scope of capital projects compared to the approach of turnaround maintenance personnel for TARS/STOs
Classifying the differences between a remote corporate team understanding of implementing capital projects and a turnaround team perception of local needs for the execution of a TAR/STO
Consequences from the lack of integrating key topics between turnover and project personnel on timelines and costs of a capital project integration in a TAR/STO
Drawing on the benefits of a well-written and documented integration plan to ensure integration is effective
Ron Bettin
Turnaround Director
Energy Transfer (Canada)
Joe Jackson
Process Quality Assurance Lead
Formerly of LyondellBasell
4:45 PM
Closing Remarks and End of Day 2
8.4.2022 – Day 3
7:30 AM
Registration and Morning Coffee
8:29 AM
Safety Briefing
8:30 AM
Chairperson's Opening Address
Lee Posey
Global Turnaround Engineer
Nouryon
8:45 AM
Accounting for the Various Components involved with Operational Integration in a TAR that Affects the Efficiency of the Event
Highlighting how TAR managers must be prepared for Lock-Out/Tag-Out, Hazardous materials mitigation and other Safety Plan measures
Coming up with the right staffing plan and other procedural strategies to limit scope creep of the event
Factoring-in Flare emission levels and other Environmental Regulatory components that are part of integrating Operations in
a TAR
Joe Jackson
Process Quality Assurance Lead
Formerly of LyondellBasell
THWARTING NEW LOGISTICAL AND INFLATIONERY CHALLENGES POSED TO SHUTDOWNS THROUGH TARGETED MARKET-BASED TECHNIQUES
9:30 AM
Discovering Solutions to Mitigate Supply-Side Constraints Associated with Long Lead times of Materials to Execute a Turnaround Efficiently and on Budget
Implementing an extended supply-chain value stream map to monitor the supply of materials
Using turnaround and market intelligence to employ forward planning of procurement to hedge on costs and turnaround time
Communicating with the supply chain to avoid risks of delays
Monitoring and Evaluating issues that are affecting source market (i.e. COVID-19, Geo-Political events) to build insights of the global market
Weighing the impact of local sourcing of materials on the TAR event
Mark Wainwright
Procurement Director, Integrated Supply Chain
AdvanSix
10:15 AM
Networking Break
10:45 AM
Controlling Costs in a Complex TAR timeframe via Lean Planning, Resource Optimization, and Scope Control
Commanding the right baseline that is buoyed on lessons learned from previous STO's to discover trends in cost drivers
Leveraging lean planning and optimization tools to reduce the scheduled critical path
Controlling the scope through decisive change management
Implementing cost tracking techniques to define your budget accurately to predict cost, time, and resources
Timing the involvement of contractors and vendors for schedule optimization, productivity improvements, and contract management
Jose Rodriguez
Project Controls and Scheduling Specialist
Valero
11:30 AM
Panel Discussion
Overcoming the Domino Effects that Inflation and Geo-Political Crises will have on Materials Costs and Supply-Side Efficiency of TARs
Scanning the supply-side effects that the Ukraine-Russia conflict has on petrochemicals and refineries
Identifying the materials that are proving cumbersome to source from Europe by TAR managers
Grasping the repercussions of the Ukraine-Russia conflict on freight time and charges
Measures being used by to mitigate supply-side constraints
Timing turnarounds and shutdowns to minimize added cost to the plant
Panel Moderated By
Lee Posey
Global Turnaround Engineer
Nouryon
Jose Rodriguez
Project Controls and Scheduling Specialist
Valero
12:15 PM
Closing Remarks and End of Conference