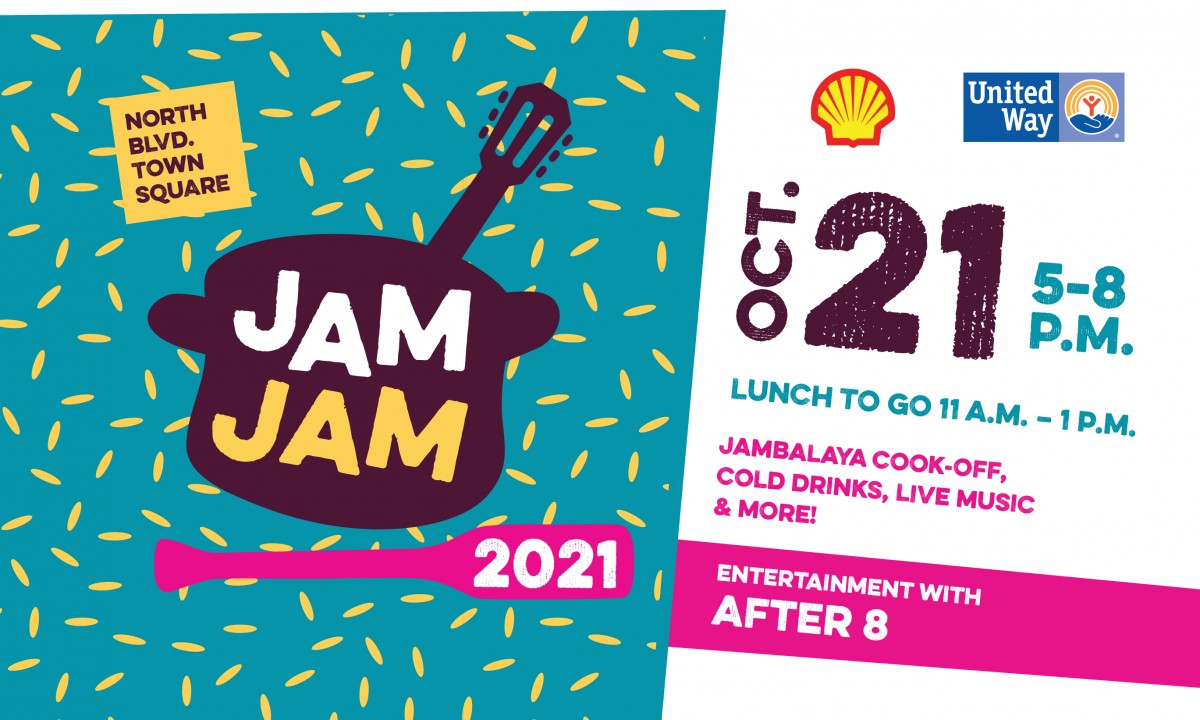 2021 Jambalaya Jam Baton Rouge
This Event Reminder is Sponsored by:

2021 Jambalaya Jam
The 2021 Capital Area United Way Jambalaya Jam registration is officially open! The Jambalaya Jam, presented by Shell, is scheduled to take place on Thursday, October 21st in North Blvd Town Square in downtown Baton Rouge with entertainment provided by After 8!
Ticket Information
Pre-sale is now closed. All tickets can be purchased at the event on Thursday, October 21st. 
The 34th Annual Jambalaya Jam, presented by Shell and benefiting Capital Area United Way, will be held at North Blvd Town Square in downtown Baton Rouge on Thursday, October 21 from 5 – 8 p.m. Guests are invited to enjoy cold drinks and live music by After 8 while sampling jambalaya from participating teams.
Tickets start at just $10 and can be purchased below until Tuesday, October 19 at Noon. After that, tickets can be purchased at the event itself. All proceeds benefit United Way.
Lunch To-Go – $10 
Can't make it to the main event? Join us for lunch! We will be selling plates of jambalaya to-go from 11 a.m. – 1 p.m. Pick up will be located in North Blvd Town Square in downtown Baton Rouge. This year, we are offering pre-sale and a limited amount of day of tickets.
Dinner To-Go – $10
Pick up your to-go box from the Will Call table, load it up with jambalaya and have a delicious dinner on the go!
All-You-Can-Eat – $15
Eat 'til you drop! This ticket gets you as much jambalaya as you want from more than 30 competing teams. We guarantee you won't leave this event hungry!
VIP Lounge – $50
Located in the heart of the event, the VIP Lounge includes unlimited jambalaya and drinks (soft drinks, beer and wine) as well as catered food, sweet treats and comfortable seating.
*All tickets pre-odered or pre-purchased will be available for pickup at the CAUW Office by close of business on Tuesday, October 19. If not picked up, pre-purchased tickets will be picked up at will call. Tickets will also be available for purchase at the event. For questions, please contact Bryce Benzine at bryceb@cauw.org.
LSU – Arkansas Ticket Auction
Cheer on the LSU Tigers vs Arkansas on Saturday, November 13, 2021 in Baton Rouge, LA.
Includes: 4 West Stadium Club Passes (West Stadium Club Section 104, row 2, seats 24-27) and one parking pass in Lot #401.
Tickets and parking pass to be picked up on Friday, November 12th between 8 – 11 a.m. at the Capital Area United Way office, 700 Laurel Street, Baton Rouge, LA 70802.
*All funds raised to benefit the CAUW Jambalaya Jam
Salvation Army Ida Victim Relief
We will be partnering with The Salvation Army to collect items for Hurricane Ida victims in our hardest hit parishes. We will be collecting the items below. *Please bring ONLY the items listed*
Infant Supplies
Cleaning Supplies (gloves, mops, mop buckets, cleaning solution, brooms, etc.)
New children's toys
New undergarments (both child and adult sizes)
Hygiene items.
For your donation, you will get ONE (1) complimentary soda/water ticket. One ticket per person.
Volunteer Information
Looking to volunteer at Jambalaya Jam? Great news! We have opportunities available! For needs and times, please visit our sign up here!
2021 Sponsors 
Presenting Sponsor: Shell 
If you would like more information about the Jambalaya Jam, please contact Ashley Montagnino at (225) 382-3502 or ashleym@cauw.org.
COVID-19 Warning: An inherent risk of exposure to COVID-19 exists in any public space where people are present and gathered. By attending and participating in this event, you understand the risk that exists.