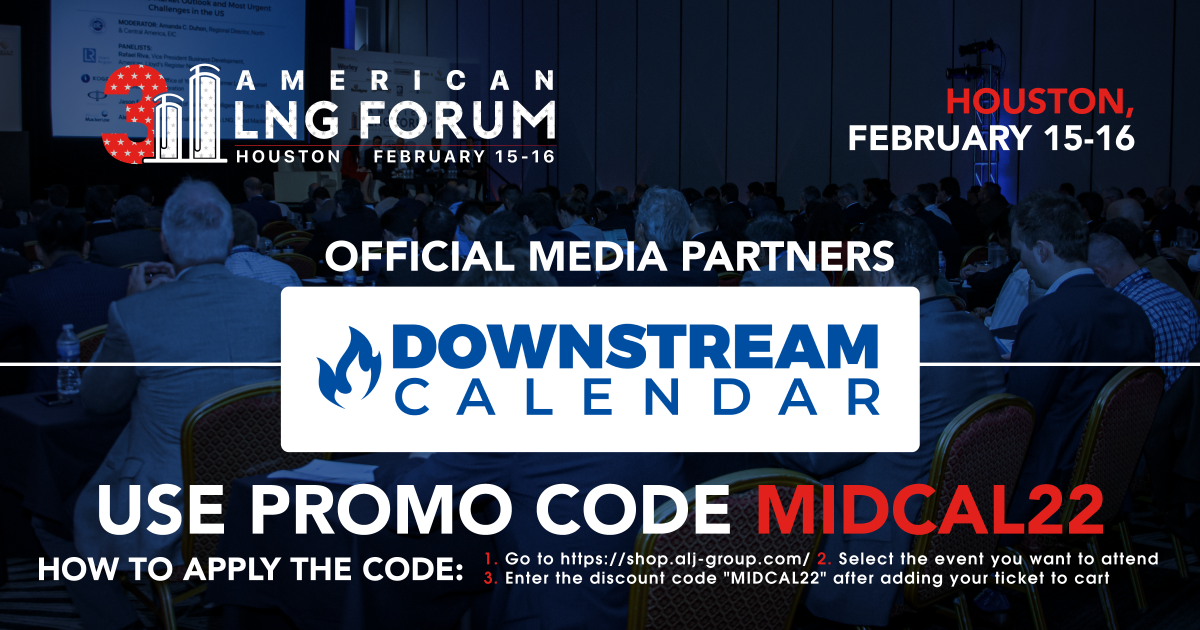 3rd American LNG Forum 2022 – In Person – Use "MIDCAL22" for 15% off PROMO
This Event Reminder is Sponsored By:

3rd American LNG Forum
The American LNG Forum is your gateway to learning about the US LNG export industry, LNG pricing, latest project updates and finding top-notch modern technology as well as connecting with the right people for business in the LNG sector.
Taking place in Houston, the event is not limited to the local participation, the attendees get a chance to meet people from different parts of the world, interested in business opportunities in the US LNG sector. The event covers a large scope of topics including LNG export, LNG project landscape in the USA, LNG fuel solutions, latest LNG plants technologies and many more!
Throughout the years of experience, ALJ Group has tested and tailored an interactive platform, where participants are able to engage in a fruitful debate and take full advantage of networking with the speakers and the audience. In addition to an informative conference with top experts, the participants get an exclusive opportunity to also attend an exhibition where carefully selected solution providers showcase their cutting-edge technologies and innovations. We invite all stakeholders and LNG enthusiasts to join the Forum, get valuable insights, learn about the future of the LNG industry, and start new business partnerships.
01
LNG Production and Exports
LNG export terminals – unlocking LNG exports opportunities
LNG supply chain infrastructure – how to make it more viable?
LNG as fuel – latest technological developments and prospects
How does fracking influence American lng exports?
02
LNG Market Outlook
LNG demand in Asia and US-China trade threats – impact on American LNG market
Will the United States be able to continue exporting LNG at competitive prices?
Most significant challenges American LNG industry will face in the near future
Will LNG market be able to continue its impressive growth spurt in the future?
03
LNG Projects
Major LNG projects in the USA: technical requirements and specifcations
How will the biggest LNG projects (Alaska LNG, Corpus Christi, Driftwood LNG, Lake Charles LNG) change the US gas and oil industry landscape
LNG terminals unexhausted growth opportunities
How will companies overcome emerging challenges for new projects and business models?
04
Latest Innovations and New Technologies in LNG Sector
Innovative solutions for LNG helping to monetize gas resources in environment-friendly manner
Most promising LNG fuel solutions in the light of environmental and clean air regulations in US
Most efficient LNG technologies for LNG Plants. Adapted for different applications: small-scale, mid-scale and large-scale and offshore
Boosting productivity and removing inefficiencies with innovative digital and cyber security tools
2021 participants
Make sure you are here to take the full advantage!
Follow www.DownstreamCalendar.com for upcoming industry events. Downstream Calendar was created to help synchronize the industry by providing a free lookahead for key industry events across the country. We focus on non-profit support, community, and industry specific trade shows and downstream conferences for refining plants, chemical plants, fertilizer plants, terminals, storage facilities, LNG plants, syngas, and bio mass. Follow MidstreamCalendar.com for Midstream Events.
2022 Oil and Gas Events