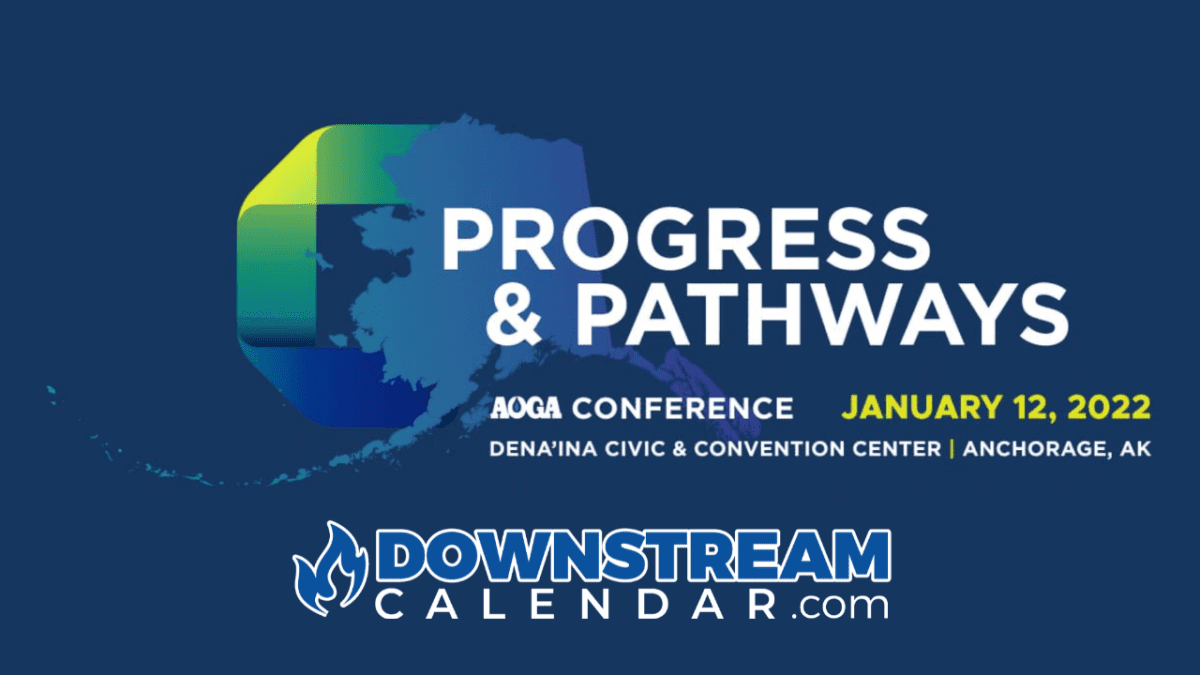 Register Now for 2022 Alaska Oil and Gas Association (AOGA) Conference January 12, 2022
Welcome to the 2022 Alaska Oil and Gas Association (AOGA) Conference, Alaska's premiere industry event. After a brief hiatus, we're looking forward to bringing back yet another all-star lineup for you at this year's conference. With top-tier speakers from across Alaska and the country, you won't want to miss it!
This year's theme, "Progress and Pathways," recognizes not just the historical progress the industry has made throughout decades of innovation, but more recently during a global pandemic, low oil prices and shifting political sands and struggles in 2020. "Pathways" highlights the many ways industry continues to leverage advancements in safety and technology to produce, refine and transport Alaska's oil and gas resources, all while meeting the world's highest safety and environmental standards.
With Alaska poised to help supply the world's energy demands as additional energy sources are incorporated into the mix, AOGA's conference is a must-attend event for anyone whose job or livelihood is impacted by, or who may want to learn more about, the industry's progress and pathways during this time of unprecedented change.
Join us as we delve into hot-button issues that will impact Alaskans and our energy economy for years to come.
Alaska's Premier Industry Event
Check out our 2019 video to see why our vendors, speakers, attendees, and topics make the AOGA Conference one you don't want to miss. A lot has happened in the last two years — all the more reason to be at this year's event for all the latest!
Sponsor/Exhibitor Opportunities
Sponsors and Exhibitors — we couldn't bring such a quality program to Alaskans without you!
Whether a new or a returning supporter, we invite you to join in championing the 2022 Conference, while gaining exposure to oil and gas producers, explorers, refiners, and pipelines operating in Alaska.
Attendee Registration
AOGA is excited to bring you yet another content-packed agenda for this year's conference. We appreciate your patience as we finalize the details.
In the meantime, attendee registration is open. This is always a sold-out event, so save your spot today!
Award Nominations
Know an individual, company, or project in the oil & gas industry that deserves recognition?
Submit your nomination(s) for this year's AOGA Industry Awards!
Click below to learn more about our four award categories and submit your nominations by Monday, July 19th.
Commitment to Safety
As always, safety is our industry's top priority. Therefore, while we are currently planning for an in-person conference, this format could change based on health and safety recommendations and government mandates. Either way, we look forward to a dynamic, value-packed program and chance to reconnect!
The 2022 Conference App is back again!
The AOGA Conference app will be available for download as your all-in-one event assistant. With the app, you'll be able to:
• Follow the conference agenda
• View speaker bios & session info
• Find your way with the onsite Exhibit Hall map
• Network with fellow attendees