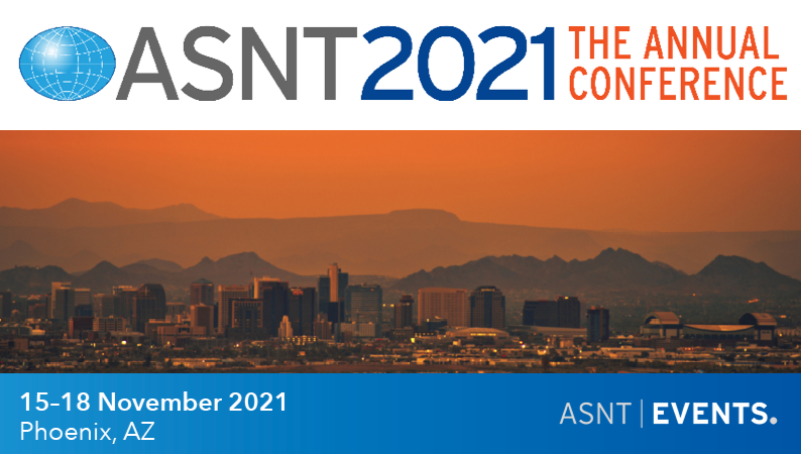 Register today for ASNT 2021 Conference 11/15 thru 11/18
ASNT is proud to welcome you to Phoenix, Arizona, USA for
ASNT 2021: The Annual Conference.
Make plans to attend the largest NDT event of the year. ASNT 2021 is the place to mingle with more than 2,500 NDT industry professionals and hear industry experts present high-quality, innovative content. The conference will feature exciting general sessions and time to connect with your peers, plus a vibrant exhibit hall with over 225 exhibitors. ASNT 2021 is the best opportunity to share your research/work, hear updates on the latest NDT advances, network with your colleagues and meet new ones. Plan now to attend in person at the Phoenix Convention Center or connect online from anywhere in the world.
15-18 November 2021
New Schedule! Great Speakers!
Keynote Speaker
New Date and Time
Monday, 15 November at 4pm
Mark SchulmanSponsored by CarestreamNDT

CarestreamNDT is sponsoring the opening keynote session featuring Mark Schulman, the drummer for P!NK, who has performed for sold-out audiences worldwide. Get ready to be empowered, inspired, and elevated to an evolved mindset and new level of peak performance as Schulman presents "Hacking the Rockstar Attitude: Harness the Energy, Spirit, and Passion of Rockstars."
New Event!
Closing Luncheon
Thursday, 18 November at 12pm
Dr. Radhika Dirks
A quantum physicist-turned-entrepreneur, RADHIKA DIRKS is CEO and co-founder at XLabs: the only company in the world making AI moonshots a reality. Her enterprising work proves that we can combine human intelligence with artificial intelligence to enhance, rather than displace, our humanity. Named one of the Top 30 Women advancing AI today, Dirks also dives into the state of diversity in the AI sector.
Follow www.DownstreamCalendar.com for upcoming industry events. Downstream Calendar was created to help synchronize the industry by providing a free lookahead for key industry events   across the country. We focus on non-profit support, community, and industry specific trade shows and downstream conferences, LNG Conferences, for refining plants, chemical plants, fertilizer plants, terminals,   storage  facilities, LNG plants, syngas, and bio mass. Follow MidstreamCalendar.com for Midstream Events.