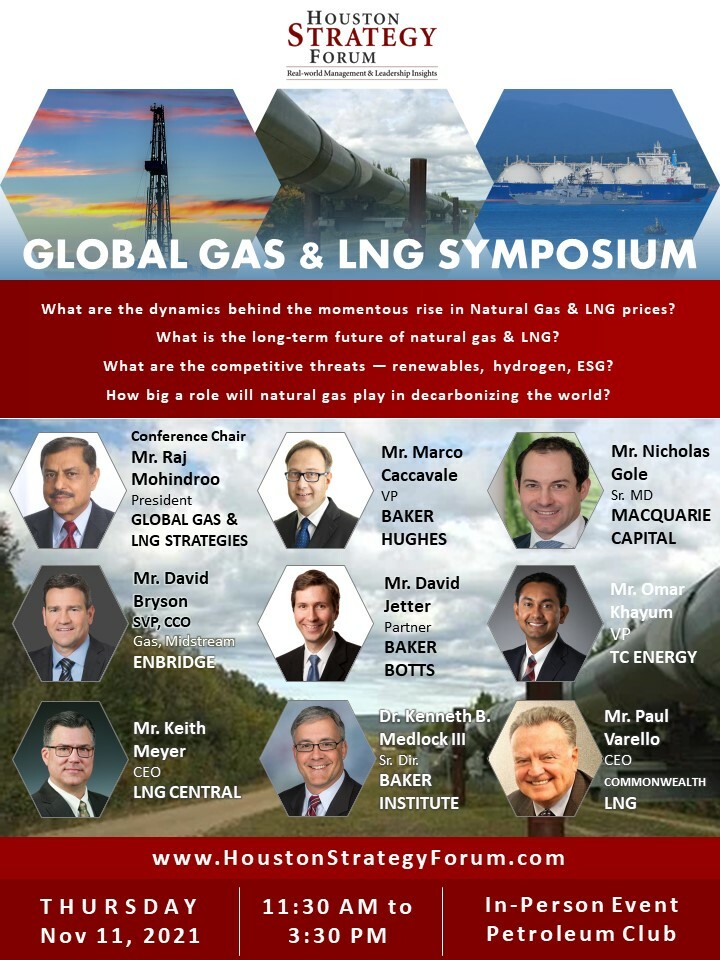 Register now for Future of Global Gas & LNG – Houston Strategy Forum 11/11
This Event Reminder is Sponsored by:

Global Gas & LNG Symposium
Theme:"Future of Global Gas & LNG"
Thursday, November 11, 2021 ● 11:30 AM to 3:30 PM ● Petroleum Club, Downtown Houston
Symposium Context
In recent weeks, US natural gas prices have soared due to hot weather & LNG export boom. Outages and strong demand in Asia, Latin America, and Europe have driven LNG prices to levels not seen since 2015.
Natural gas is projected to be the only fossil fuel that will see substantial demand growth over the next two decades. The US is the biggest producer and consumer of natural gas in the world. The U.S. is also the world's fastest-growing LNG exporter. Last year the U.S. was the 3rd largest LNG exporter, but just five years earlier the U.S. ranked 18th globally in LNG exports.
Global electricity demand is growing faster than renewables, driving strong increase in generation from fossil fuels. How big a role will natural gas and LNG have in decarbonizing the world?
What is the long-term future of natural gas & LNG? What are the competitive threats to gas and LNG? How big a role will renewables play? What will be the role of Hydrogen?
How are companies in the gas sector positioning themselves to create innovative value? Are there new and exciting applications for natural gas?
How could technology help supply chains deal with black swan events like the pandemic?
We are looking forward to hosting the following esteemed speakers in a powerful discussion:
• Mr. Raj Mohindroo, President, Global Gas & LNG Strategies LLC (conference chair)
• Mr. David Bryson, SVP and Chief Commercial Officer, Enbridge's Gas Transmission and Midstream (GTM) business Unit, Enbridge (confirmed)
• Mr. Marco Caccavale, VP of Sales Turbomachinery & Process Solutions, Baker Hughes (confirmed)
• Mr. Nicholas Gole, Senior Managing Director, Macquarie Capital (confirmed)
• Mr. David E. Jetter, Partner, Baker Botts (confirmed)
• Mr. Omar Khayum, Vice President, TC Energy (confirmed)
• Mr. Keith Meyer, President & CEO, LNG Central (confirmed)
Follow www.DownstreamCalendar.com for upcoming industry events. Downstream Calendar was created to help synchronize the industry by providing a free lookahead for key industry events   across the country. We focus on non-profit support, community, and industry specific trade shows and downstream conferences, LNG Conferences, for refining plants, chemical plants, fertilizer plants, terminals,   storage  facilities, LNG plants, syngas, and bio mass. Follow MidstreamCalendar.com for Midstream Events.