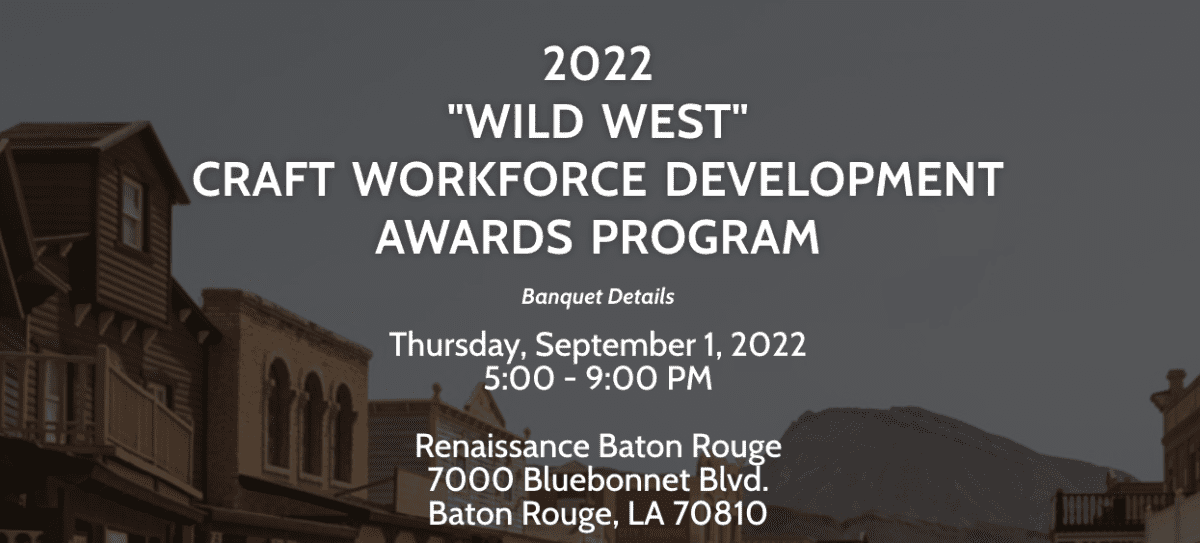 Greater Baton Rouge Industry Alliance presents 2022 "WILD WEST" CRAFT WORKFORCE DEVELOPMENT AWARDS PROGRAM 9/1 – Baton Rouge
This Event Reminder is Sponsored by:

About the Awards Program
The Greater Baton Rouge Industry Alliance, Inc. (GBRIA) Craft Workforce Development Awards acts as both an awards and benchmarking program. This program was developed in 2007 through a joint effort of GBRIA's Contractor Workforce Development Committee, Board of Directors and local contractors. The program has been designed to promote best practices to improve the skills and retention of craft personnel in the region and to recognize and reward contractors, member plants, schools, educators and other individuals who contribute to recruitment, assessment, training, career path education and retention efforts. GBRIA's Craft Workforce Development Awards offers awards for the following groups: Mechanical and Electrical Contractors; Civil and Structural Contractors; other Specialty Contractors; Industrial Plants/Facilities; High Schools and Individual Champions. These awards support one of GBRIA's strategic objectives to ensure access to a competitive and skilled company & contract workforce.
This award is presented at the discretion of the committee to GBRIA Member Facilities, Educators, Post-secondary institutions, Individuals or Organizations who have demonstrated special initiatives or accomplishments in craft workforce development.
To nominate a GBRIA Member Facility, plants may self-nominate, receive a nomination or will be considered for nomination upon a nomination submission for a contractor or high school. If nominating a plant for a champion award, please consider the following:
The quality of their descriptions of contractors (i.e. the plants' involvement in fostering craft workforce development at the site
The number of contractors submitted for awards, both workforce and safety
Participation of plant employees on GBRIA committees
External information about the company's efforts with area schools such as donations, tutoring, mentoring programs, etc.
Participation and representation in GBRIA's 4 major events.
Participation in ABC's, union, NCCER or other cents/hour training funding program.
To nominate an educator, post-secondary institution, individual or organization, submit the nomination form. If nominating a champion, please consider the following:
An accomplishment in his/her field, i.e. an educator
Lifetime/career accomplishment
Accomplishment of something innovative or large in scope
Follow www.DownstreamCalendar.com for upcoming industry events. Downstream Calendar was created to help synchronize the industry by providing a free lookahead for key industry events across the country. We focus on non-profit support, community, and industry specific trade shows and downstream conferences for refining plants, chemical plants, fertilizer plants, terminals, storage facilities, LNG plants, syngas, and bio mass. Follow MidstreamCalendar.com for Midstream Events. We are the original energy calendar that bring together All Streams of Energy.
2022 Oil and Gas Events added every day.
2022 Oil and Gas Events Baton Rouge
If you are wondering when the 2023 GBRIA 16th Annual Craft Workforce Development Awards Program will be, look no further. This year's 2023 Greater Baton Rouge Industry Alliance's 16th Annual Craft Workforce Development Awards Program will take place on August 31, 2023 at the Renaissance Baton Rouge on 7000 Bluebonnet Blvd. Baton Rouge, Louisiana. Register today with the link below
Register now for the GBRIA 16th Annual Craft Workforce Development Awards Program August 31, 2023 – Baton Rouge