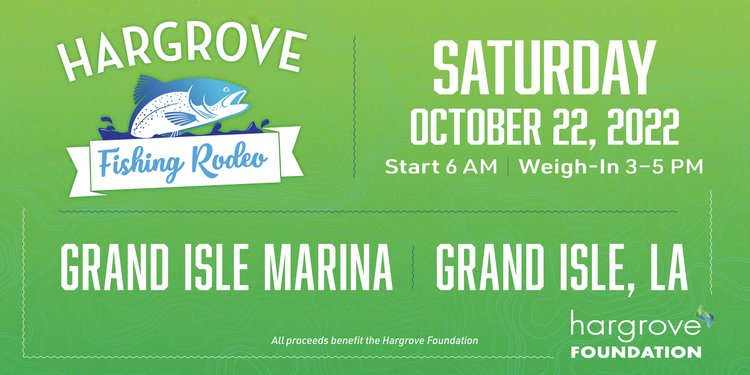 Hargrove Foundation Annual Fishing Rodeo Oct 22 – Grand Isle, LA
This Event Reminder is Sponsored by:

JOIN THE HARGROVE FOUNDATION FOR OUR ANNUAL FISHING RODEO ON OCTOBER 22, 2022
The Hargrove Foundation will once again hold its annual Fishing Rodeo on Saturday, October 22, 2022 at Bridge Side Marina in Grand Isle, Louisiana. Join us for a spirited tournament, beginning at 6:00am CT, with weigh-in from 3:00-5:00pm CT. Awards, door prizes and dinner will begin at 5:45pm CT.
Register early to secure your spot! Adults are able to compete for a donation of $35 (early registration), or $40 day-of, while children 13 and under can compete for a donation of $15 (with purchase of an adult registration). Register online or RSVP to Teammate Paula Patty at ppatty@hargrove-epc.com.
Enjoy this friendly fishing competition in a socially distanced, outdoor atmosphere while supporting Hargrove Foundation causes in health and human services, education, arts and culture, and qualified sports activities.
Appropriate COVID-19 guidelines will be enforced when gathering as we strive for the safety of all in attendance.