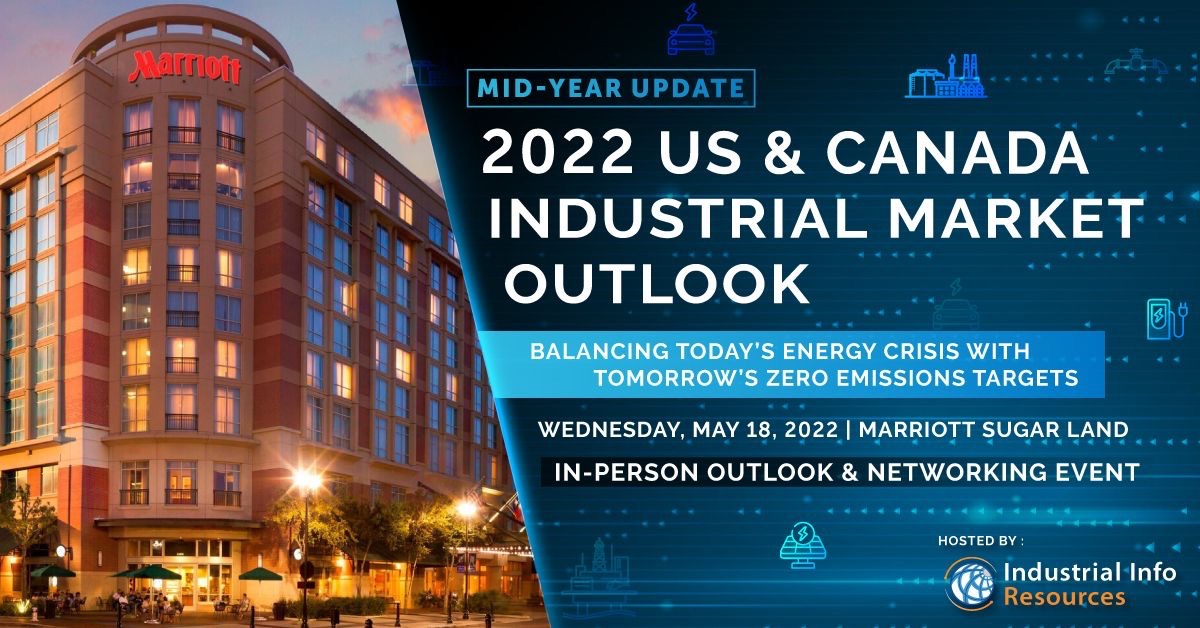 Register Now for the Market Outlook Presentation and Networking Event May 18th – Sugarland
This Event Reminder is Sponsored by:

Join Industrial Info Resources for the Mid-Year update of the 2022 Industrial Market Spending Outlook for U.S and Canada.
You are cordially invited to join us for our Mid-Year update of the 2022 Industrial Market Outlook being held at the Sugar Land Marriott Hotel on May 18, 2022 at 4:00 PM.
Gain insights from our industry experts in the Electric Power, Upstream, Midstream, and Downstream Oil & Gas markets, Chemical Processing and Biofuels sectors as they review current performance from earlier projections, and discuss key spending drivers, constraints and challenges in each industry for the next 12 to 18 months.
Some of the topics discussed will include:
Macroeconomic Outlook
Long-Term Inflation Impact on CAPEX Spending
Labor Market Constraints
U.S. Energy Transition Status
Oil & Gas Production Outlook Amid Energy Crisis
Green Hydrogen via Power-to-X
Impact of Environmental, Social, and Corporate Governance (ESG)
Efforts to Rectify Supply-Chain Issues
Following the presentation, join us for our networking event. IIR's industry experts will be available for Q&A. Visit our demo stations to learn What's New with IIR's Global Market Intelligence (

GMI™) Platform Tools and Database.
Agenda
---
12 PM – 3:15 PMPECWeb Training Sessions
12:00PM – 12:45PM: Getting to Know PECWeb
1:00PM – 1:45PM: New Developments in PECWeb and Analytics
2:00PM – 3:15PM: PECWeb/Analytics Interactive (Q&A)
3 PM – 4 PMCheck-in | Registration
4 PM – 6 PMOutlook Presentations
(15 min segments)
Global Macro Outlook
North America Spending Forecast
Electric Power
Natural Gas Market
Petroleum Refining
Chemical & Biofuels Sectors
6 PM – 8 PMNetworking Event