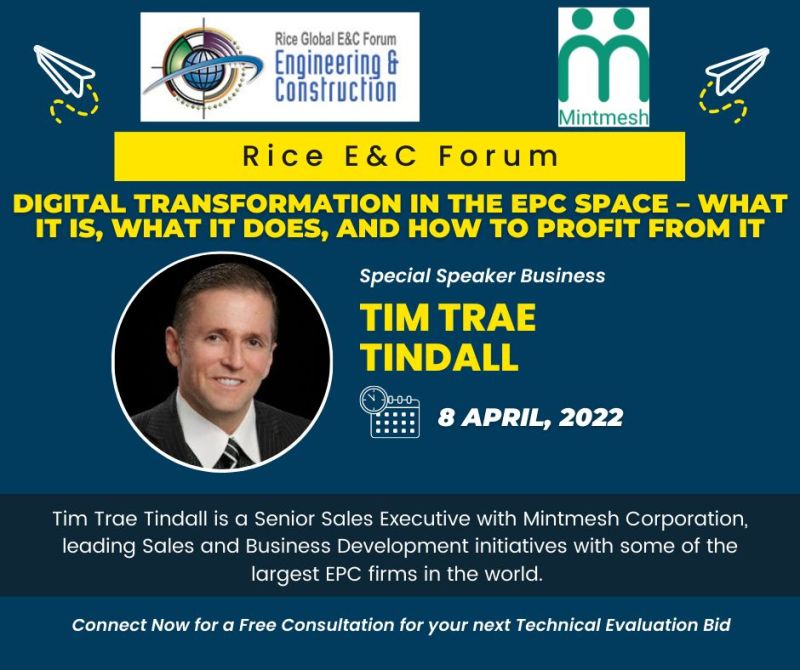 Register Now for the Rice Global Forum Luncheon April 8th – Houston – Topic:"Digital Transformation in the EPC Space – What it is, What it does, and How to Profit from It"
This Event Reminder is Sponsored by: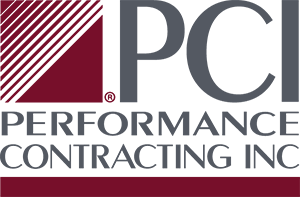 Date / Time:
Friday, April 8, 2022
11:15 am – 12:00 pm Registration & Networking
12:00 pm – 1:00 pm Lunch & Program (live and streamed via Zoom)
1:00 pm – 1:45 pm Networking
If you are attending this meeting virtually, the program will be streamed via Zoom from 12:00 – 1:00 pm. A link will be sent to you 24 hours prior to the meeting.
Topic:
"Digital Transformation in the EPC Space – What it is, What it does, and How to Profit from It" 
What is Digital Transformation, and why is it important to the E&C Sector? Come discover the important implications of "Digital Transformation in the EPC Space – What it is, What it does, and How to Profit from It."  In this presentation, we will learn where major American companies have profited from digital transformation, and discover the missteps and missed opportunities that caused others to fall by the wayside. In this ever-changing world beset by competition at every level, digital transformation is more important today than ever before.
Where and how are major Engineering firms utilizing digital transformation as a competitive advantage?
Where are the greatest business opportunities, both as an EPC, as well as a Supplier?
What are some of the greatest Engineering challenges today, and how can Digital Transformation transform the greatest industry problems into solutions?
These are just a few of the ways we will discover how to maximize your productivity, accountability, and profitability with Digital Transformation in the EPC Space.
Speaker:
Tim Trae Tindall, Senior Sales Executive, Mintmesh Corporation
Tim Trae Tindall is a Senior Sales Executive with Mintmesh Corporation. Based in the Houston Energy Corridor area, Tim leads Sales and Business Development initiatives with some of the largest EPC firms in the world.  Providing digital transformation solutions in a single system of record, Mintmesh helps EPC firms to transform much of their Technical Bid Evaluation/TBE process down from a few weeks down to a few minutes with their highly-acclaimed Rudy solution.
Tim brings over 20+ years of sales success in technology for oil and gas, equities, and engineering firms.  Managing multiple sales teams and endeavors to national recognition, Tim specializes in complex sales cycles. Earning a double major in Marketing as well as Management from Texas A&M University, Tim also holds an MBA and numerous professional certifications. Tim is also proud to have earned Advanced Toastmaster Gold Certification. Managing 6+ Houston-area Toastmasters clubs, Tim has also attained Distinguished Area Certifications.
Tim enjoys cooking, charity activities, and running in marathons. Tim's son Joseph got married last year, and will make him a grandfather this coming June.  
Registration:
$30 for general admission
$15 for Rice Faculty (registration required in advance)
Free for Rice Students (registration required in advance)
$20 webinar – online only
Registration will close at Noon on Thursday, April 7, 2022. A boxed lunch will be served to those guests attending in person.
Health & Safety Protocols:
At this time, we are following Rice University's COVID policies as guidelines for our attendees at the Roundtable meeting. The full policy can be viewed at https://coronavirus.rice.edu/policies.
Location & Parking:
Grand Hall in the Rice Ley Student Center
Detailed campus maps are available on the web at http://www.rice.edu/maps/. The Ley Student Center is located in the central part of Rice campus. The Central Campus Garage, which is the closest parking facility, is located to the across the street from the Student Center.
In the possibility the underground parking is full, the second closest parking is the West Lot. Continue down the Laboratory Loop Road to the stop sign. The campus also offers a bus shuttle that runs about every 15 minutes as it loops the campus.
Note: In order to protect the privacy of the luncheon attendees, the list of attendees is not published or distributed.
This Roundtable qualifies for one (1) Professional Development Hour (PDH). Your email confirmation at completion of registration serves as your PDH and payment receipts. Paper receipts may be picked up at the registration desk at time of check-in.
Follow www.DownstreamCalendar.com for upcoming industry events. Downstream Calendar was created to help synchronize the industry by providing a free lookahead for key industry events across the country. We focus on non-profit support, community, and industry specific trade shows and downstream conferences for refining plants, chemical plants, fertilizer plants, terminals, storage facilities, LNG plants, syngas, and bio mass. Follow MidstreamCalendar.com for Midstream Events.
2022 Oil and Gas Events Houston
2022 Downstream Industrial Manufacturing Events in Oil and Gas
2022 Oil and Gas Networking Events in Texas
2022 Downstream Calendar Events
Follow UpstreamCalendar.com for 2022 Oil and Gas Events