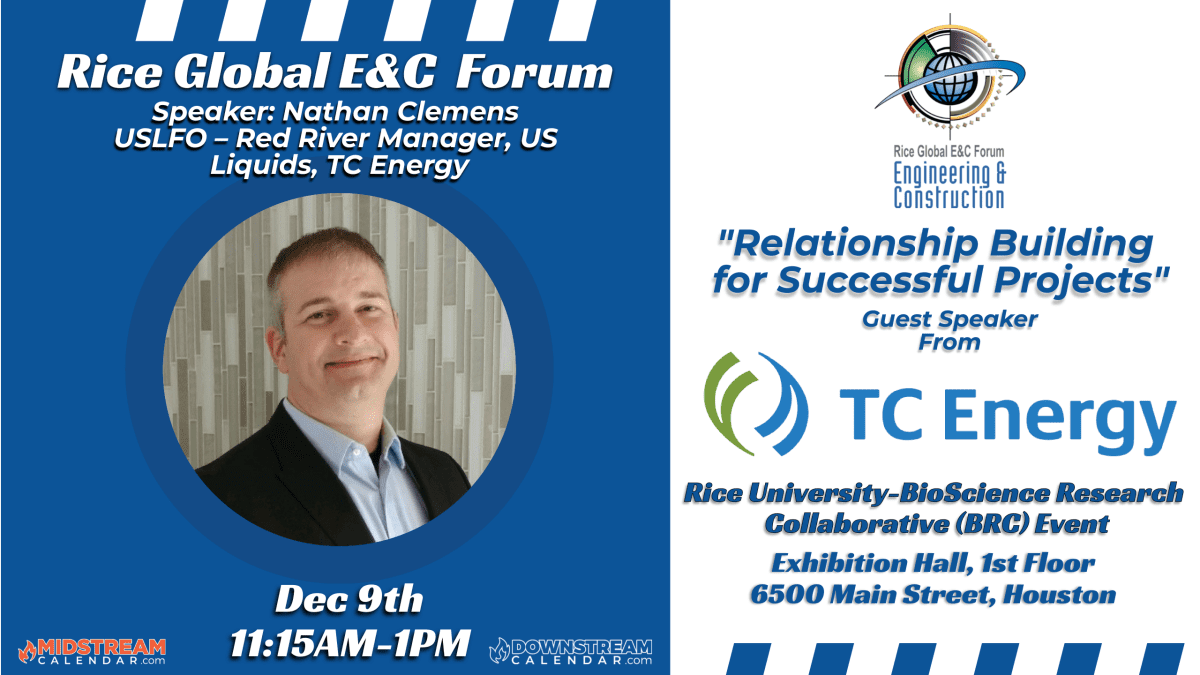 Register Now for the Rice Global E&C Forum Luncheon Dec 9th – "Relationship Building for Successful Projects" – TC Energy – Nathan Clemens
This Event Reminder is Sponsored by: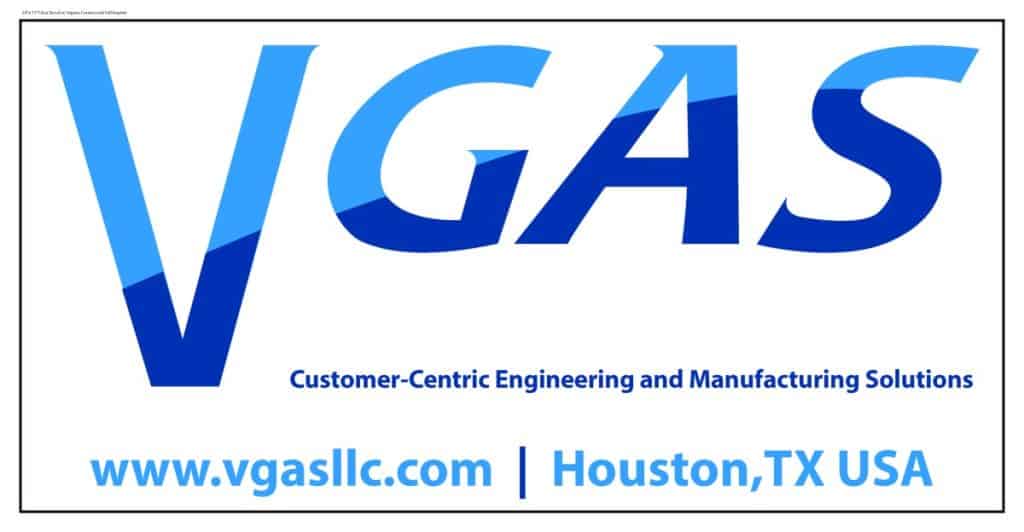 Relationship Building for Successful Projects – Rice Global E&C Forum
Topic:
"Relationship Building for Successful Projects"
In this presentation, Mr. Clemens will address how effective leaders go beyond the industry standard metrics of safety, cost, schedule and quality to deliver a successful project outcome. Mr. Clemens will discuss how relationships and communication with project stakeholders as well as managing their different expectations are keys to project success.
Speaker:
Nathan Clemens, USLFO – Red River Manager, US Liquids, TC Energy
Mr. Clemens has over twenty one years of professional experience serving both owner and an E&C contractor organizations. He has held multiple management roles over his career, and has significant experience in capital project development for key midstream operators. Mr. Clemens holds a Bachelor of Science and a Master of Environmental Engineering from Texas Tech University.
Registration:
$30 for general admission
$15 for Rice Faculty (registration required in advance)
Free for Rice Students (registration required in advance)
$30 webinar – online only (new fee as of 4.11.22)
In person registration will be limited so please register early. Registration will close at Noon on Thursday, December 8, 2022. A boxed lunch will be served to those guests attending in person.
Follow www.DownstreamCalendar.com for upcoming industry events. Downstream Calendar was created to help synchronize the industry by providing a free lookahead for key industry events across the country. We focus on non-profit support, community, and industry specific trade shows and downstream conferences for refining plants, chemical plants, fertilizer plants, terminals, storage facilities, LNG plants, syngas, and bio mass. Follow MidstreamCalendar.com for Midstream Events. We are the original energy calendar that bring together All Streams of Energy. Follow us for upcoming oil and gas events.
2023 Oil and Gas Events added every day.
2023 Oil and Gas Charity Events Houston and Non-Profit Support

About Rice Global E&C Forum:
About
The Rice Global E&C Forum (RGF) is the only organization focused solely on the discussion and study of problems and opportunities facing the contracting side of the E&C industry. The Rice Global E&C Forum (RGF) has a vision to be the premier venue for discussion of critical issues impacting the future of the global E & C industry.
Information regarding the structure of the organization is available here.
Adopted by-laws may be obtained here.
To learn more about the Forum's leadership visit us on the Leadership page.
Membership information is also available.
History
The first all day forum was held on September 28, 1998 on the Rice University campus with the Keynote topic, "Market Changes in the E&C Industry" delivered by Joe Munisteri. The Rice Global E&C Forum was actually founded in 1996 by Dr. Durrani along with a small group individuals.
Dr. Ahmad J. Durrani of the Department of Civil Engineering and Ryuzo "Ricky" Nagaoka, then a graduate student at Rice, saw the need for a forum for discussion on topics and problems in the industry and for a neutral place where persons active in the industry could come together to study them. The primary focus at that time was on questions in the Engineering and Construction Industry and that focus has remained the primary mission of the Forum.
Contracting industry leaders at that time brought together a Steering Committee to outline the future mission that carried the Forum through to December 2008. At that time the Forum determined a stronger governance model needed to be adopted. Therefore a set of by-laws and a structure definition were created to provide the governance. Currently a Board of Directors, an Executive Committee and membership volunteers serve the Forum's mission.
Growing from a small group of individuals, today the Forum has grown to include 14 contractor members and 23 associate members from the major domestic and international contracting community. The Forum expanded its activities sometime before 2003 to include monthly luncheon Roundtable meetings at which timely topics of interest to the Engineering & Construction are presented and discussed. By 2005 its Annual Forum event evolved to include an opening reception, dinner and presentation as we know it today.
Anti-Trust Statement
No activity of the Rice Global E&C Forum shall involve the exchange, collection or dissemination of information among competitors for the purpose of bringing about or attempting to bring about any understanding or agreement, written or oral, formal or informal, express or implied, among competitors with regard to costs, prices or pricing methods, terms or conditions of sale, distribution, production quotas or other limitations, on either the timing, or volume of production, or sales, or allocation of territories or customers.