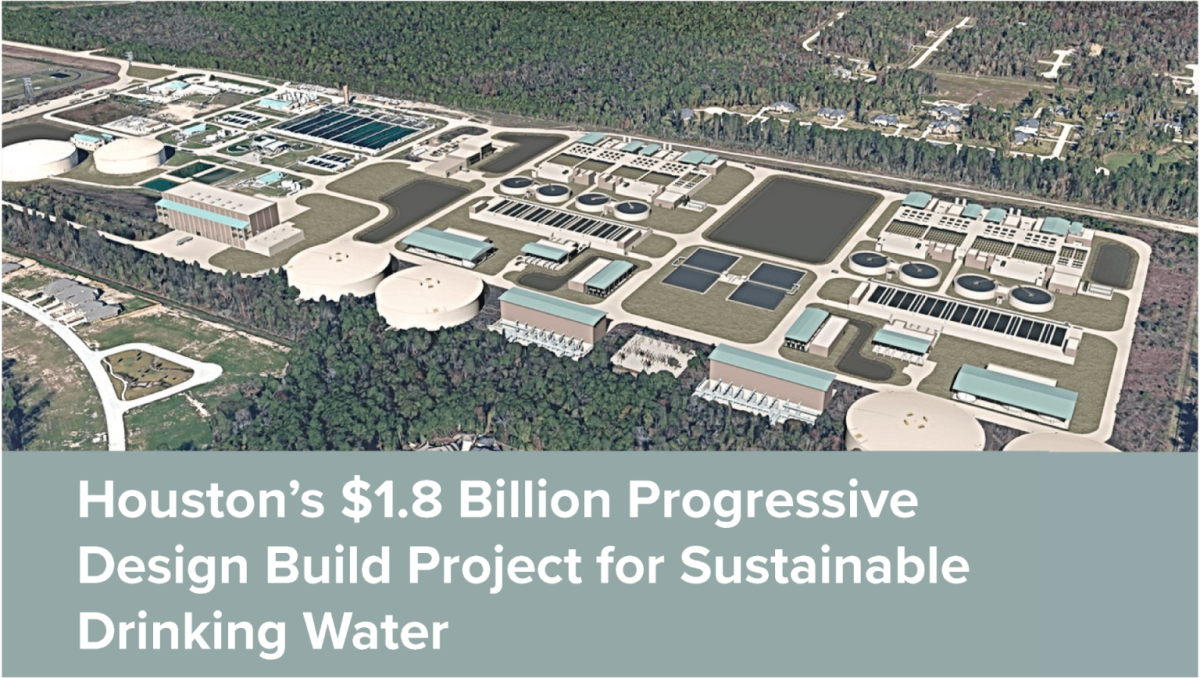 Rice Global Engineering & Construction Forum June 10th
This Event Reminder is Sponsored by:

Friday, June 10, 2022
11:15 am – 12:00 pm Registration & Networking
12:00 pm – 1:00 pm Lunch & Program (live and streamed via Zoom)
1:00 pm – 1:45 pm Networking
If you are attending this meeting virtually, the program will be streamed via Zoom from 12:00 – 1:00 pm. A link will be sent to you 24 hours prior to the meeting.
Topic:
"Houston's $1.8 Billion Progressive Design Build Project for Sustainable Drinking Water"
The Rice Global Engineering & Construction Forum is pleased to partner with the Gulf Coast Region of the Society of Construction Law—North America on June 10 for an exciting presentation by Houston Waterworks Team's Project Director Paul Vranesic. 
The Houston Waterworks Team—a joint venture of Jacobs Engineering Group, Inc. and CDM Constructors Inc.—is building the sustainable future of Houston's drinking water through the progressive design-build $1.8 billion Northeast Water Purification Plant (NEWPP) Expansion project.  In the greater Houston area, sustained pumping and withdrawal of groundwater for drinking causes land subsidence.  To lesson dependence on groundwater, the area has a mandate to convert to 60% surface water use by 2025 and 80% use by 2035. The NEWPP Expansion project is critical to this conversion and to address the drinking water demands of the Houston area's fast-growing population.
The NEWPP Expansion is the largest progressive design-build drinking water treatment plant project in the nation.  For the past three years, nearly 1,400 people have been on site daily at the NEWPP Expansion project building this essential drinking water treatment plant with top attention to safety, quality, and performance. The plant will start delivering drinking water to the local area in early 2023.  The NEWPP Project just passed 6 million man hours without a Lost Time Accident, and is on its way to 7 million, then 8 million, and beyond to completion.
Speaker:
Paul Vranesic, Project Director – Design-Build Division, Jacobs Engineering Group
Paul Vranesic the Project Director for the NEWPP Expansion project. Paul is a Project Director within the Design-Build Division of Jacobs Engineering Group, and is a registered Professional Engineer in the jurisdictions of Ontario, Canada and Arizona, USA.  He assembles and leads talented teams, and manages complex engineering design and construction projects in the public works and industrial sectors, typically with schedule-, performance- and price-certain requirements. Paul specializes in design-build and other alternative project delivery formats.  He has managed billions of dollars worth of complex engineering and construction projects and has directly managed more than ten million craft hours of construction labor, never having had a Lost Time Accident on one of his construction projects.
Registration:
$30 for general admission
$15 for Rice Faculty (registration required in advance)
Free for Rice Students (registration required in advance)
$30 webinar – online only (new fee as of 4.11.22)
Registration will close at Noon on Thursday, June 9, 2022. A boxed lunch will be served to those guests attending in person.