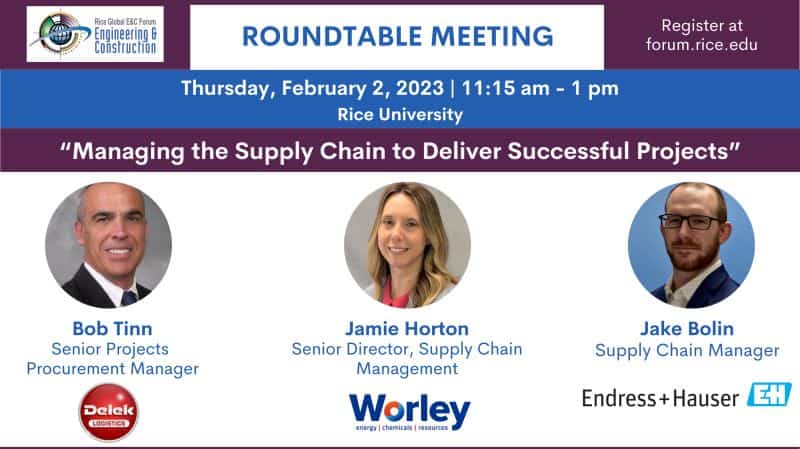 Register now for the Rice Global Engineering & Construction Forum Feb 2 Luncheon – Houston – "Managing the Supply Chain to Deliver Successful Projects"
This Event Reminder is Sponsored by:

NOTE: Roundtable Meetings in 2023 are now being held on the first Thursday of the month. 
Date / Time:
Thursday, February 2, 2023 
11:15 am – 12:00 pm Registration & Networking
12:00 pm – 1:00 pm Lunch & Program (live and streamed via Zoom)
If you are attending this meeting virtually, the program will be streamed via Zoom from 12:00 – 1:00 pm. A link will be sent to you 24 hours prior to the meeting.
Topic:
"Managing the Supply Chain to Deliver Successful Projects"

Supply chain problems were prominent during the COVID-19 lockdown amid a "perfect storm" of causes, including shifts in demand, labor shortages and structural factors. The Russia-Ukraine conflict and COVID-19 lockdowns in China have recently exacerbated issues, affecting supply in several sectors including chemicals and commodities.
On February 2, a panel of supply chain leaders from an Owner (Delek Logistics), EPC (Worley) and Supplier (Endress & Hauser) will present their perspective on the supply chain issues they faced, the solutions implemented through internal and external actions, and how they see the current and future state of the supply chain. Based on their experiences, the panel will provide recommendations and practical takeaways that EPC industry participants can take to manage the supply chain and deliver successful projects.
Speakers:
Bob Tinn, Senior Projects Procurement Manager, Delek Logistics
Bob is a professional supply chain leader who embraces challenging assignments and achieves business objectives. Proven ability to lead mega global projects and corporate functions by building high-performing teams that deliver industry recognized accomplishments.
He is adept at aligning organizational strategies, implementing innovative supply chain solutions, and building internal support to optimizes shareholder returns. Management career includes core functions: purchasing, contracts/subcontracts, equipment inspection, expediting, logistics, materials management, budget/schedule accountability, and successful profit/loss management.
Bob is a skillful leader of contracting strategies, negotiations, and risk mitigation teams for multi-billion-dollar commitments. He is a responsible steward of effective, risk mitigating contracts and rigorous contract administration programs.
Bob has a broad understanding of various cultures/business practices, working across six (6) continents in over forty (40) countries. He has extensive senior management relationships with key global suppliers, contractors, and subcontractors to promote optimal outcomes.
Jamie Horton, Senior Director, Supply Chain Management, Worley
Jamie Horton is a senior director of supply chain management at Worley, a global provider of professional project and asset services in the energy, chemicals and resources sectors. Mrs. Horton holds a Bachelor of Science degree in Marketing and Legal Studies from the University of Louisiana at Lafayette. She has over twenty two years of supply chain experience in the energy industry and has been an advocate for supplier diversity along her career. She is part of Worley's leadership team in the US Gulf Coast.
Jake Bolin, Supply Chain Manager, Endress+Hauser USA
Jake Bolin began his career at Endress+Hauser USA in 2019. Jake serves as the Supply Chain Manager, managing day-to-day supply chain operations, and building relationships with our customers to ensure the best experience possible. Jake has previously held roles in the Finance and Accounting Department utilizing his Lean 6 Sigma expertise streamline and automate processes, and before that working as a Supply Chain Analyst in the Automotive Industry.
Jake earned a degree in Business Management & Marketing from Indiana University, graduating in 2015 and then further went on to earn his MBA from the University of Southern Indiana in 2021. He currently lives in Greenwood, Indiana with his wife and their newest addition to the family their 4 month old daughter.
Registration:
$30 for general admission
$15 for Rice Faculty (registration required in advance)
Free for Rice Students (registration required in advance)
$30 webinar – online only (new fee as of 4.11.22)
In person registration will be limited so please register early. Registration will close at Noon on Wednesday, February 1, 2023. A boxed lunch will be served to those guests attending in person.
Location & Parking:
Rice University
BioScience Research Collaborative (BRC) Event/Exhibition Hall, 1st Floor
6500 Main Street, Houston, TX 77030
An underground parking garage is below the building. The price is $1 per 10 minutes, $12 daily maximum. See link below to map of the building located at 6500 Main Street, Houston, Texas 77030. This is on the South end of the Rice University campus at University Blvd, Main, Travis and Dryden streets. The parking entrance is on the Dryden street side of the building. A big blue "P" is above the garage entrance. There are 3 floors of parking. The first floor will fill quickly so it is recommended to go directly to a lower floor.
Detailed campus maps are available to download on the web at http://www.rice.edu/maps.shtml. The BioScience Research Collaborative is located on the map at Building #63.
After parking, take the elevator to the first floor and you will be guided to the event hall.
Note: In order to protect the privacy of the luncheon attendees, the list of attendees is not published or distributed.
This Roundtable qualifies for one (1) Professional Development Hour (PDH). Your email confirmation at completion of registration serves as your PDH and payment receipts. Paper receipts may be picked up at the registration desk at time of check-in.
Follow www.DownstreamCalendar.com for upcoming industry events. Downstream Calendar was created to help synchronize the industry by providing a free lookahead for key industry events across the country. We focus on non-profit support, community, and industry specific trade shows and downstream conferences for refining plants, chemical plants, fertilizer plants, terminals, storage facilities, LNG plants, syngas, and bio mass. Follow MidstreamCalendar.com for Midstream Events. We are the original energy calendar that bring together All Streams of Energy. Follow us for upcoming oil and gas events.
2023 Oil and Gas Events added every day.
2023 Oil and Gas Events Houston