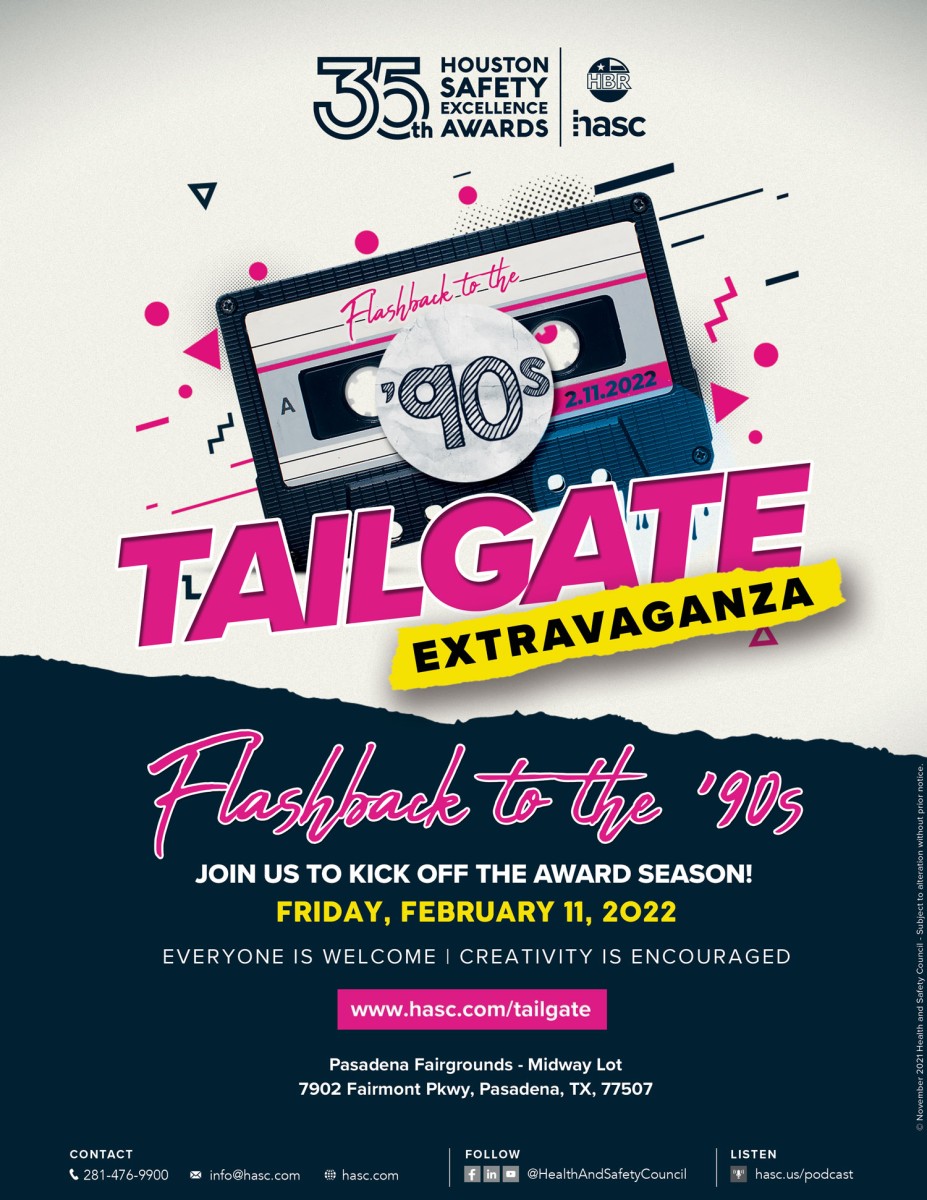 Health and Safety Council (HASC) 2022 Tailgate Extravaganza – Feb 11

2022 Tailgate Extravaganza
FLASHBACK TO THE '90s
Join us to kick off the Houston Safety Excellence Award season!
FRIDAY, FEBRUARY 11, 2022CREATIVITY IS ENCOURAGED | OUTDOOR INDUSTRY EVENT10am – 1pm – Cook-off Submissions & Judging
11am – 4pm – Booths open
2pm – Cook-off Awards & HSEA Finalist AnnouncementBooth space is limited and available on a first-come, first-served basis. Reserve your space by completing this form by Thursday, February 3, 2022.All booths must be set up by 8:00 AM the day of the event. All booths must be removed by 8:00 PM on the day of the event. Additional fees will apply if the assigned booth space is left uncleaned.Set up trailers, barbecue pits, coolers, live bands, and lawn chairs.HASC will provide portable toilets and handwashing stations. Additional COVID precautions will be in place throughout the event.Bring your competitive spirit and don't forget your company banners, hard hat stickers, koozies, etc.Free Food, Drinks and Live Music
Follow www.DownstreamCalendar.com for upcoming industry events. Downstream Calendar was created to help synchronize the industry by providing a free lookahead for key industry events across the country. We focus on non-profit support, community, and industry specific trade shows and downstream conferences for refining plants, chemical plants, fertilizer plants, terminals, storage facilities, LNG plants, syngas, and bio mass. Follow MidstreamCalendar.com for Midstream Events.
2022 Oil and Gas Events Houston
2022 Downstream Industrial Manufacturing Events in Oil and Gas
2022 Safety Council Cookoff
About Our Media Sponsor:

Leaders In:
Compliance Stack Testing/Engine Testing/Source Emissions Testing
Engineering Studies
OGI (LDAR) Programs: OOOOa, State Rules, AWP (as of now 60.18, though Appendix K SOP's & programs will be coming from Revised OOOOa, OOOOb and the state programs through EG OOOOc)
LDAR Audits for state and mostly Refinery Consent Decree Requirements
LDAR expert witness capabilities (working on a couple cases currently)
GHG studies (Subpart W, paragraph's (o), (p) & (q) or more commonly referred to as GHG Compressor venting emissions & OGI survey)
Provide industry the Cooling Tower apparatus to be used for the state & federal heat exchanger rules (TAC 115 Subchapter H, Division 2 & 40 CFR 63 Subpart CC and other MACT rules as the RTR is performed)
Turn-key Benzene Fence Line programs
Marine Vessel Venting or fugitive emissions programs
Special studies to characterize emissions from leaking equipment (use Hi flow sampler for TVOC & sometimes combined with a TO-14 sample for speciation.
Aerial Drone Inspections for VOC and Methane (Gimbal contains OGI camera for VOC's, TDLAS "Methane Laser" & of course a Canon/Nikon)